Hello! As promised before, here is my review for the book in Uppercase's December box, Not if I See You First by Eric Lindstrom. I had been keeping an eye on this because I saw it was one of Epic Reads' anticipated books of December and the concept of this book intrigued me. I was extremely happy when I pulled this beauty out of the box and even did a happy dance.
A brief but awesome overview:
She may be blind but Parker Grant can see right through you. She's sass and smart as a whip and isn't afraid to step on your toes if need be. After her father's sudden passing, Parker must deal with adapting to new people living in her house. If that's not bad enough, the local high schools have just combined to make one new one and the place is crawling with people who don't know her rules. It's not all bad though. Parker meets a few new people along the way and her ex stumbles his way back into her life. (Way to violate rule number infinity, Scott.)
Okay, I hope that helped entice you to read this! Parker was so funny. I know I say that about a lot of characters, and most of the time they really are, but Parker is someone I would love to be friends with. On the other hand, her brutal truth is sometimes hard to swallow and I don't know if I would like that. Anyway, she is someone I'm glad I spent time with (in the book at least). Her struggle is something unique in YA and I'm extremely grateful to Lindstrom for writing her story. I never thought of the many rules that Parker has and how I act around disabled people. It's always a hard thing for me to gauge, even when I do encounter it (which isn't very often). I think that if I were to be someone with a list that is so straightforward I would be Parker. She is very like me and I just enjoyed her voice so much. Her realizations about the world and how she perceived it were very real. Even though she was blind and self-assured she felt the same things that I feel and it enhanced her character.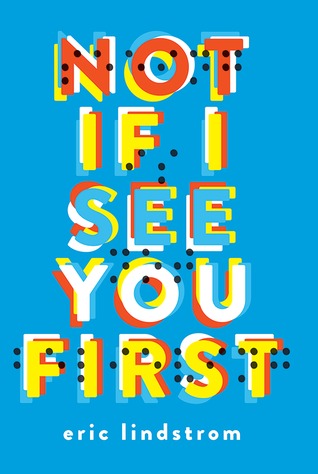 Let me just say that it is a gorgeous cover as well. There is braille lettering on the front, but it isn't the title (look up a braille alphabet to decode it:).  I felt that the cover really did the contents justice.
Alright, happy reading!
Sophie