Hey, guys! I can't believe it's already mid-February! At the beginning of the month I went on a Model UN conference to Chicago, so I was absent on the blog for a bit – sorry for that! I promise I'll be more active in the coming weeks.
On this post I will review Into the Dim by Janet B. Taylor. I believe she's a debut author, and her novel was something that was fun to read. I got this through my lovely local bookstore where I work, and was intrigued immediately from the description on the back.
So here's a bit about the book: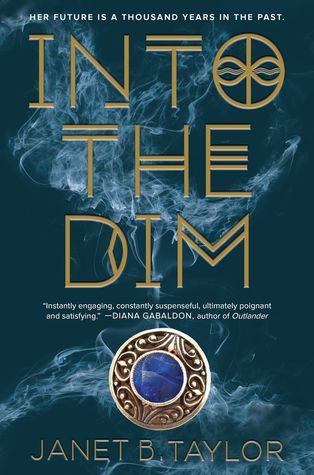 Hope Walton's brain is hardwired to remember everything she sees, but she suffers from multiple phobias that prevent her from doing many things. She's homeschooled and is her small town's weird kid, which doesn't exactly sit well with her adoptive father and his large perfect family. When Hope and her father discover her mother's death abroad, Hope is devastated.
She is sent to her secluded aunt in Scotland where she discovers the truth behind her mother's past – she's part of a society of time travelers. What's worse is that Hope's mom is trapped in time – the 12th century, the time of King Henry  II and Eleanor of Aquitaine, to be exact. The only person who can save her mother is Hope herself.
Now Hope must face her fears to travel back in time to rescue her mother before it's too late for her to come back.
**************
This book was quite unique. It is one of the first of the time travel books that I have read thus far in the year. (Time travel seems to be the main theme of this year's new books!)
Being a bit of a history geek, I really liked learning the history element of the novel. Taylor puts a lot of work and research into her novels, so I know I can rely on her accuracy. I'm presently taking AP European History and we didn't get the chance to study pre-Renaissance, so it's really cool to read about feudal monarchs.
I didn't quite like Hope the way I feel like I should have. Something just didn't sit well with me. I assure you she's a wonderful character – smart, sassy, and surprising, but I feel like she didn't give herself enough credit. I felt like she didn't see her potential the way I saw it, but I suppose that was part of her character development, right? I genuinely did like her and am curious to see who she'll become in the second book. I really want to see her establish herself as a person.
One of my favorite supporting characters was Collum. He's strong and stoic, and I think I connected well with him because he sees the world as something very logical. I like to think I'm logical like him and that was something that stuck out to me while reading it. Phoebe was pretty cool, too. She has spunk and verve that's very refreshing in a female character.
It took a little bit for me to really dig my heels into this book. It probably had a lot to do with the fact that I started it the week I was leaving for my Model UN trip, so I didn't have much time to do anything but do homework and pack.
This book is set to release on March 1 of this year. I can't wait for you guys to read it, too! I hope I've helped add to your TBR list! 🙂
Happy reading,
Sophie 🙂