Hello, there! I have just finished Glass Sword by the wonderful Victoria Aveyard. It was released on February 9th, I got it on the 10th, and I started it on the 11th. I have to say I didn't truly have time to get into it until about Friday night, and I'm glad I could make it last even that long! As many of you may know I was extremely excited to get this one along with several thousands of other people(!). It was well worth the wait, and I can't wait for the third book (set to release next year, boo!!). I promise you my review will be spoiler free for those of you who haven't had the chance to read it yet. If you haven't read Red Queen yet I highly encourage it because it is excellent. (Here is the link for my review on that one if you'd like to see what that one is all about.)
Here's a brief overview:
Mare Barrow lives in a world separated by blood. Hers is Red, the color of those less fortunate, yet she has the powers of a Silver – she can control electrical currents. The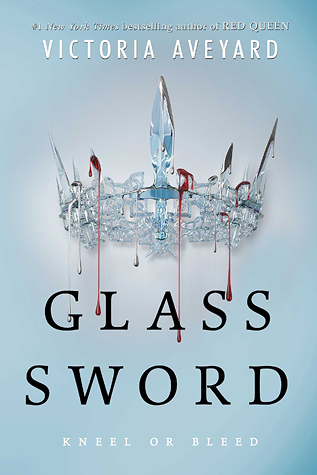 Silver crown is trying to yield her power for themselves until she slips away from their grasp.
Before her escape Mare learns that she is not alone. Others like her are out there and they're in danger from the Maven, the prince – her friend – who betrayed her. It's now up to Mare to find them before he gets there first.
Now on the run from Maven, Mare sets out to find these hybrid blooded kin and train them in their abilities. They must learn to wield their different powers to help free themselves and other Reds from their oppression.
The mission proves to be something Mare wasn't quite expecting, and she runs the risk of becoming the monster she's trying desperately to fight.
******************
As promised above, this review is spoiler free!! I will however make vague references to things that happened and anything that happened in Red Queen is fair game, so you have been warned. 🙂
Wow, just wow. It's hard to formulate full sentences after such a whirlwind of a book, especially one I've been waiting on for so long! It was everything I hoped it would be and more as my mother would say.
This picks up right after Red Queen ends so there isn't much of a time difference between the two books. Right away it was fast-paced and captured me right from my world. I couldn't put it down after I started, and I loved every minute of reading it.
I just…yeah. Wow. I'm still feeling my feels right now, and it's quite hard to get over these particular ones. Especially since not a lot of people have read it yet, so there's no one to talk about it with me! Onward with the review, though!!
At the end of Red Queen we discover that Mare's brother Shade is alive. In this one we get to know him a bit more, and I loved him. He's an  awesome character, and his ability to teleport is wicked – can I exchange him for my brother? No? Oh, okay then. Shade is a major person that keeps Mare sane, and I like that she is so close to him. It makes her more… human I guess you could say. What happens toward the end broke my heart. It wasn't even the end and I was pretty much down for the count at that point.
You also get to know Kilorn and Cal more. I love Kilorn. I'd marry Kilorn – he's now moved to number two on my list of book boyfriends – after Simon Lewis a la The Mortal Instruments series by the wonderful Cassandra Clare. (Simon Lewis and I are getting married, don't try telling me otherwise.) Anywho, Kilorn is killing it in this book (ha ha, get the pun? Oh wow that was distasteful. He would enjoy it.) I really like his character and how he gets Mare. He is someone else who grounds her and reminds her of the person she truly is versus the person she's becoming.
Now Cal, ah what a lovely guy. He's also on my list of book boyfriends. I mean, who wouldn't want a caring, upright guy who happens to be prince, am I right?! I loved getting to know Cal more in this story. Enter guy number three who helps anchor Mare. He seems to really understand where Mare is coming from, especially with Maven's betrayal. Maven did indeed steal the crown from him and turn him into a killer. I suppose you could say they have some bad blood between them. Mare's revolution is hardest on Cal. He is truly a Silver and it feels as though he is turning his back on his people. Throughout the book, b0th Mare and Cal struggle with who is on who's side. It's very grey and undefined. There are Silvers who are good people, there are Silvers who are bad. The Reds are just as treacherous, and it's hard navigating right and wrong in times of war. Sometimes you just have to do what needs to be done hoping the end justifies the means.
Toward the end Mare got on my nerves a little. If there was an award for self-pity or self-deprecation she would win it. I felt like she didn't give herself enough credit, and she really underestimated others. The lack of trust that Mare has is startling, even for people she's know for most of her life (*cough cough* Kilorn). It was sad to see her push everyone away. It was the apex of her losing her mind, at least being on the brink of it. Don't worry, I still love her. She's snarky and very cunning. I like how strong she is, and I hope she learns she can lean on other people for support. It's sad how alone she feels, and I empathized with her a lot. It isn't something she should feel like she needs to go through alone.
The overall story was excellent. I really liked how it developed, and I was very, very surprised when I reached the end. It went a bit further than I thought it would. There were a few false endings where I thought it would be a good place to end but it kept going. Not that I'm complaining – I love the way it ended, but it took me by surprise. Okay, love is a strong word. It ends on a major cliff hanger, drop-the-mic situation. I gasped out loud, and I was shocked. JUST OH MY GOODNESS *screams* So. Many. Feels. I can't believe it. I honestly can't, and I am dying for book 3 which unfortunately doesn't come out until next year. *cries*
Oh well, c'est la vie, non? I hope my review has been helpful. I know it's quite lengthy, and thank you for sticking it out until the end (if you made it thus far). As always, happy reading!
Sophie 🙂