Hello, there! Looking for an amazing new book? You should definitely check out The Love that Split the World by Emily Henry. This month we read this for The Book Junkies – the Goodreads book club I started with Beth (The Books Are Everywhere) and Emma (The Book Crunch). Boy, am I glad we read this one! It is my favorite read of 2016 (so far), and I will definitely be re-reading this one.
Here's a little about the book:
Natalie Cleary must risk her future and leap blindly into a vast unknown for the chance to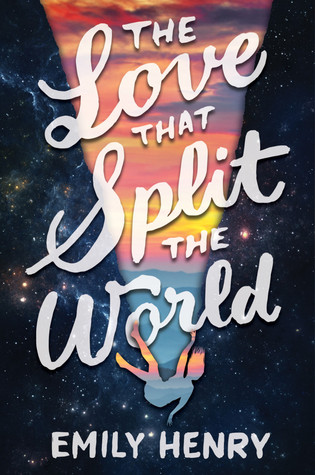 build a new world with the boy she loves.
Natalie's last summer in her small Kentucky hometown is off to a magical start… until she starts seeing the "wrong things." They're just momentary glimpses at first—her front door is red instead of its usual green, there's a pre-school where the garden store should be. But then her whole town disappears for hours, fading away into rolling hills and grazing buffalo, and Nat knows something isn't right.
That's when she gets a visit from the kind but mysterious apparition she calls "Grandmother," who tells her: "You have three months to save him." The next night, under the stadium lights of the high school football field, she meets a beautiful boy named Beau, and it's as if time just stops and nothing exists. Nothing, except Natalie and Beau.
**************
Well, well, well. That was an excellent book. I could not wait to see what would happen in the end – but I also didn't want it to end!!! The whole world Henry was able to construct was one that captured me right away.
One of my favorite elements of the book was that it was about a Native American girl. There aren't many books written from this perspective, and Natalie's voice came through strong and beautifully. She is a girl I could relate to extremely well.
The Native American stories were well written. I loved all of them. They were an interesting part of Natalie and Beau, and they tied the story together very well. The subject religion comes up a lot, and it's written in a way that allows you to formulate your own thoughts. The questions posed are ones that leave you questioning your own thoughts and feelings about a higher power. It's very insightful, and lets you contemplate it on your own.
Henry's writing was phenomenal. The voice and structure of the overall plot was gorgeous. I can't wait to see what else she's going to write! It's funny, because she went to college near me, and I've studied on the same campus. It's a bummer she lives in Kentucky now.
The ending was fitting. I don't think I would have been pleased with a different one. It is a bit of a cliff-hanger, but a sequel is not needed. It was hopeful and uplifting. I sighed after finishing it, and had to re-read it to make sure I read it correctly. People in my calculus class looked at me a bit funny (yes, I finished it right before a big chapter test – who needs math when you have a book?), but who cares? It was an amazing ending.
I gave this 5/5 stars on Goodreads, and I highly recommend you give this book a chance. You won't regret it.
Happy reading!
Sophie 🙂