Hey, there! Here's a second review from me today. I'm still trying to figure out when else to post these when I have multiple, so for now you'll get more than one on Sundays if I have them. In this post, I'll be reviewing Truthwitch by Susan Dennard. This was my last book in my February TBR and I managed to read it before the month ended! I got this book through Uppercase in the January box and I'm glad I read it. It isn't something I would have picked out for myself, but it was good nonetheless.
Here's what the book is about:
In a continent on the edge of war, two witches hold its fate in their hands.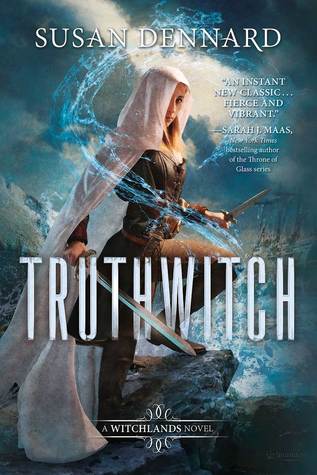 Young witches Safiya and Iseult have a habit of finding trouble. After clashing with a powerful Guildmaster and his ruthless Bloodwitch bodyguard, the friends are forced to flee their home.
Safi must avoid capture at all costs as she's a rare Truthwitch, able to discern truth from lies. Many would kill for her magic, so Safi must keep it hidden – lest she be used in the struggle between empires. And Iseult's true powers are hidden even from herself.
In a chance encounter at Court, Safi meets Prince Merik and makes him a reluctant ally. However, his help may not slow down the Bloodwitch now hot on the girls' heels. All Safi and Iseult want is their freedom, but danger lies ahead. With war coming, treaties breaking and a magical contagion sweeping the land, the friends will have to fight emperors and mercenaries alike. For some will stop at nothing to get their hands on a Truthwitch.
***************************
Sounds good, doesn't it? I can assure you it was!
One of my favorite parts of the book were the different names. I love when authors get inventive and create new names. It makes the characters stick a little better, and they contrast more than others. I love Safi's name! It reminds me of my own, and if I had to choose a new name, I would definitely go with this one.
I especially enjoyed Safi and Iseault's relationship. They are bonded together through invisible threads, and I'm glad it's between two strong women. There seem to be more and more strong female characters coming out, and as a young girl myself, I love reading about them! There is something about the lack of support women are willing to give to one another that is startling. Yet there are other women who are very open to helping each other out. I find that Safi and Iseault are two that will always be there for each other. I can appreciate their connection and their friendship. It's nice to see them as friends.
The concept of different natural powers was interesting. I know that there are a lot of books similar to this out there, but something about this one made it stand out to me. I really liked the Threadwitch idea. It would be so cool to see other people's feelings and not have to keep guessing at their true emotions. Sometimes it's just exhausting! There was a quiz that went along with my Uppercase exclusives, and it said I would be an Earthwitch. An Earthwitch works with the elements and the soil and stuff (I think? There wasn't much about them in the book). I would want to be a Threadwitch though. That would be neat to be able to help people work things out or marry them.
I have nothing to complain about. The plot was exciting and kept me guessing the entire time. Every time I thought I had it figured out there was always something else that affected the characters. I like Prince Merik. Ugh *swoons* Princes are pretty cool. At least most of them that I've read about anyway, except Mavin. (That is one insipid little worm.)
Alrighty, that's all I've got for now! Happy reading!
Sophie 🙂