Hello, happy Monday fun day! I can't personally say I'm very excited for today (I have a paper due, and it's stressing me out), but I'm going to try to make the most of it!
Like last Monday, I'll be discussing some new releases for the week. I know I already covered Lady Midnight last time, so I'm going to politely skip that one for now. There are some other great reads coming out tomorrow, so don't forget to check those ones out, too!
1.Rebel of the Sands by Alwyn Hamilton
Release date: March 8
Publisher: Penguin Books
Description: She's more gunpowder than girl—and the fate of the desert lies in her hands.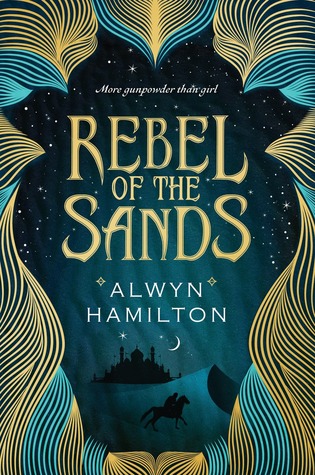 Mortals rule the desert nation of Miraji, but mystical beasts still roam the wild and barren wastes, and rumor has it that somewhere, djinni still practice their magic. But there's nothing mystical or magical about Dustwalk, the dead-end town that Amani can't wait to escape from.
Destined to wind up "wed or dead," Amani's counting on her sharpshooting skills to get her out of Dustwalk. When she meets Jin, a mysterious and devastatingly handsome foreigner, in a shooting contest, she figures he's the perfect escape route. But in all her years spent dreaming of leaving home, she never imagined she'd gallop away on a mythical horse, fleeing the murderous Sultan's army, with a fugitive who's wanted for treason. And she'd never have predicted she'd fall in love with him…or that he'd help her unlock the powerful truth of who she really is.
This one intrigued me because there have been so many good retellings out there lately, but this didn't go in that direction. I love myself some hot, desert-y reads full of action and this one definitely promises that!
2.A Tyranny of Petticoats Edited by Jessica Spotswood
Release date: 8 March
Publisher: Candlewick Press
Description: Criss-cross America — on dogsleds and ships, stagecoaches and trains — from pirate ships off the coast of the Carolinas to the peace, love, and protests of 1960s Chicago. Join fifteen of today's most talented writers of young adult literature on a thrill ride through history with American girls charting their own course. They are monsters and mediums, bodyguards and barkeeps, screenwriters and schoolteachers, heiresses and hobos. They're making their own way in often-hostile lands, using every weapon in their arsenals, facing down murderers and marriage proposals. And they all have a story to tell.
With stories by: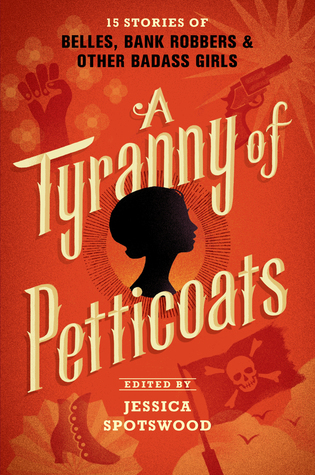 J. Anderson Coats
Andrea Cremer
Y. S. Lee
Katherine Longshore
Marie Lu
Kekla Magoon
Marissa Meyer
Saundra Mitchell
Beth Revis
Caroline Richmond
Lindsay Smith
Jessica Spotswood
Robin Talley
Leslye Walton
Elizabeth Wein
If you truly read my reviews, you'll know how much I rave about strong female characters. I honestly am so excited to pick up this anthology. Look at all the awesome writers, too! It's awesome to see that they collaborate. How appropriate too for Women's History Month!
3.The Great Hunt by Wendy Higgins
Release date: March 8
Publisher: Harper Teen
Description: Kill the beast. Win the girl.
A strange beast stirs fear in the kingdom of Lochlanach, terrorizing towns with its brutality and hunger. In an act of desperation, a proclamation is sent to all of Eurona—kill the creature and win the ultimate prize: the daughter of King Lochson's hand in marriage.
Princess Aerity understands her duty to the kingdom though it pains her to imagine marrying a stranger. It would be foolish to set her sights on any particular man in the great hunt, but when a brooding local hunter, Paxton Seabolt, catches her attention, there's no denying the unspoken lure between them…or his mysterious resentment.
Paxton is not keen on marriage. Nor does he care much for spoiled royals and their arcane laws. He's determined to keep his focus on the task at hand—ridding the kingdom of the beast and protecting his family—yet Princess Aerity continues to challenge his notions with her unpredictability and charm. But as past secrets collide with present desires, dire choices threaten everything Paxton holds dear.
Inspired by the Grimm Brothers' tale, "The Singing Bone," New York Times bestselling author Wendy Higgins delivers a dark fantasy filled with rugged hunters, romantic tension, outlawed magic, and a princess willing to risk all to save her people.
Like I said above, I love retellings. They really took off with The Lunar Chronicles series by Marissa Meyer. One of my favorites has got to be Wicked by Gregory Maguire. This one seems promising, and I hope that I'll get the chance to read it!
I know this list is a bit sparse, but that's all I have for now! There are some great reads coming out in the coming weeks, and I'll talk about them then. Don't forget about Lady Midnight because EEEK ONLY ONE MORE DAY. I can't wait to relive in the Shadow Hunter world. *sighs of happiness*
Happy reading!
Sophie 🙂