Hello! Sorry for being so late on this one. We're a bit behind, but we promise this month we'll do our best to get this out on time. For February's Book Junkies read we chose The Love that Split the World by Emily Henry.
Here's a bit about the book:
Natalie Cleary must risk her future and leap blindly into a vast unknown for the chance to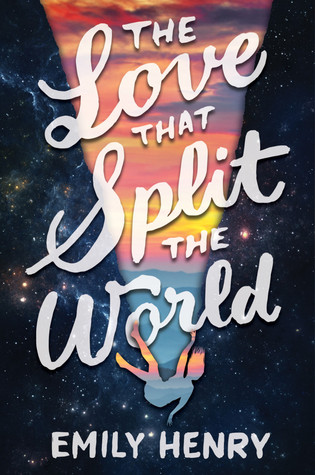 build a new world with the boy she loves.
Natalie's last summer in her small Kentucky hometown is off to a magical start… until she starts seeing the "wrong things." They're just momentary glimpses at first—her front door is red instead of its usual green, there's a pre-school where the garden store should be. But then her whole town disappears for hours, fading away into rolling hills and grazing buffalo, and Nat knows something isn't right.
That's when she gets a visit from the kind but mysterious apparition she calls "Grandmother," who tells her: "You have three months to save him." The next night, under the stadium lights of the high school football field, she meets a beautiful boy named Beau, and it's as if time just stops and nothing exists. Nothing, except Natalie and Beau.
Emily Henry's stunning debut novel is Friday Night Lights meets The Time Traveler's Wife, and perfectly captures those bittersweet months after high school, when we dream not only of the future, but of all the roads and paths we've left untaken.
**********************************
It was a beautiful read, and we LOVED both Natalie and Beau. We can't wait to see what else Henry has in store for us readers. We hope you enjoy this discussion we had about the book! Join us next month reading The Symptoms of My Insanity by Mindy Raf. Here is the link to our Goodreads group if you'd like to find us 🙂 [Please note that Emma's portion will be missing – she ran out of time to read it! (Oh, Erma, we still love you!)Don't worry, she'll be here again next month!]
What did you think of Grandmother? Love her? Hate her?
Sophie: I loved Grandmother. I thought her character was well developed and she added something to the story. I wish I had a grandma like her!
Beth: She was a great character – and she definitely added another, new layer into the book which I've never seen before in a YA novel. I was really impressed with what she added to it!
What did you think of Natalie's Native American heritage?
Sophie: I found it to be really interesting. Last year I took AP United States history, and I learned a lot about Andrew Jackson forcibly removing many tribes and the many battles between the natives and other settlers. There aren't many books about Native American people, and this one just adds so much insight into their history – even just the culture.
Beth: It's a great concept and one I haven't read much about before! The only thing I would say is to add more about it in the book – I'd have loved to have heard more in Natalie's everyday life rather than just in Grandmother's stories.
What did you love most about the story? What did you dislike?
Sophie: I love how everything connected in the end. So many parts of the story were relatable and relevant to discussions being had today. Two words, my friends: Beau Wilkes. *swoons* I've decided we're getting married. #sorrynotsorry Natalie, you're cool, but Beau and I were meant to be. There isn't anything I truly disliked. The story is told beautifully, and I will definitely be re-reading it in the near future 🙂
Beth: I have to completely agree with Sophie! I absolutely loved the ending and Beau – in fact I loved him so much I want this book to be made into a movie so badly just so I can see real life Beau…
What did you think about time travel being a massive part of this novel? Do you think Emily did a good job in describing everything?
Beth: Definitely! I was a little dubious starting this book, actually, as I have never read a book about time travel before – but I was extremely impressed by Emily's skill of weaving it in between Natalie's real life.
Sophie: I felt like it's one of the best I've read. It was seamlessly woven into the story. I felt that while it is a big aspect of the book it didn't dominate it.
Should Emily Henry be proud of The Love That Split The World being her debut novel?
Beth: I can honestly say Emily deserves so much for this book. It has been reaching out to so many people in the past few months and for good reason. I was actually lucky enough to talk to her a little on Twitter and she's such a lovely person! I just want you to know, Emily, there are so many people who admire you and are so proud of you for writing this. I'm still astonished by how amazingly beautiful it is!
Sophie: Absolutely!! It's gorgeous and beautifully written. The character development is spot on. I wish I had my own Natalie and friends (Beau included of course). Props to her for such an amazing debut! Fun fact: I've studied at the same college as her! I took an advanced lit course that was through Hope and was there every Tuesday in 8th grade. It's so weird, but cool at the same time.
Let's just mention that cover…
Beth: Ah!! I was so happy to receive this book in the mail, and when it arrived I sat there stroking it for ages! Such a pretty cover…and one for such a beautiful book.
Sophie: Ditto, Beth! Agh, kudos to the cover designer! You really know how to get an amazing cover!
Thanks for reading with us! It has been a good month, and we're looking forward to this one!
Happy reading and may your shelves forever overflow with books 🙂
Sophie & Beth (& Emma, in spirit)