Hi! As titled, this is a review for Soundless by Richelle Mead. I actually have not read any of her other books, but I do know she's most popular for her Vampire Academy series which has also been turned into a tv show. I won this book through a giveaway hosted by @the_pageturners – a book club on Instagram that gives away the book they're reading each month. It's run by some of my favorite Bookstagrammers, you should definitely check it out!
Here's a  little about the book: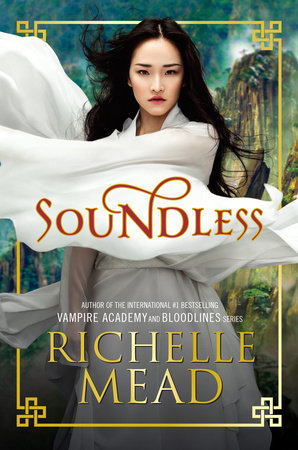 For as long as Fei can remember, no one in her village has been able to hear. Rocky terrain and frequent avalanches make it impossible to leave the village, so Fei and her people are at the mercy of a zipline that carries food up the treacherous cliffs from Beiguo, a mysterious faraway kingdom.
When villagers begin to lose their sight, deliveries from the zipline shrink. Many go hungry. Fei and all the people she loves are plunged into crisis, with nothing to look forward to but darkness and starvation.
One girl hears a call to action…
Until one night, Fei is awoken by a searing noise. Sound becomes her weapon.
She sets out to uncover what's happened to her and to fight the dangers threatening her village. A handsome miner with a revolutionary spirit accompanies Fei on her quest, bringing with him new risks and the possibility of romance. They embark on a majestic journey from the peak of their jagged mountain village to the valley of Beiguo, where a startling truth will change their lives forever…
And unlocks a power that will save her people.
******************
This was the second book I read of the month, and I really enjoyed it. Sometimes before reading it I check the reviews and ratings on Goodreads to gauge the general feeling of it. This one doesn't have a very high one, but I still like giving them a chance if it isn't high. (Honestly though, the first review is pretty scathing.)
Fei's character was well developed. I liked her perseverance and resilience throughout the entire novel. I admire her relationship with her sister and her loyalty. I felt like I could relate to her as a character, too.
There aren't many books out there about Chinese or Asian girls. Being Chinese-American myself, I really enjoyed this new perspective. I liked the use of folktales and the construction of Fei's world. Though I have not been to China since birth, I felt like the descriptions transported me there.
Fei's descriptions of sounds were cool to read. I have never thought what it would be like if I had gained my hearing after years. It was intriguing how she looked at the world. I never considered how much we truly go through balancing all of our stimuli!
Overall plot was well done. The ending was surprising to me, I did not see it going in the fantastical direction, but it did not hurt it. It was hopeful and left things to the imagination – in the right way. I like it as a stand alone. A sequel is not necessary for it. My rating is 4/5 stars.
Happy reading!
Sophie 🙂