Another review here! This is finally the last one I have before being all caught up (until I finish the two I'm reading now of course). This book was sent to me through Uppercase Box in the February package. It was signed by the author, and came with a few other goodies. Check out the entire box review through the second link above 🙂 Melissa Landers also wrote the Alienated series, but this is the first of hers that I've read. I am very pleased with her writing, and I'll have to check out her other series when I get the chance!
Here's the description on the flap:
Life in the outer realm is a lawless, dirty, hard existence, and Solara Brooks is hungry for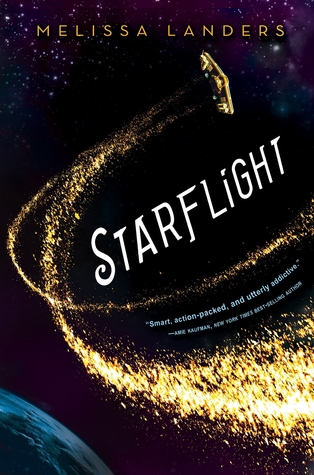 it. Just out of the orphanage, she needs a fresh start in a place where nobody cares about the engine grease beneath her fingernails or the felony tattoos across her knuckles. She's so desperate to reach the realm that she's willing to indenture herself to Doran Spaulding, the rich and popular quarterback who made her life miserable all through high school, in exchange for passage aboard the spaceliner Zenith.
When a twist of fate lands them instead on the Banshee, a vessel of dubious repute, Doran learns he's been framed on Earth for conspiracy. As he pursues a set of mysterious coordinates rumored to hold the key to clearing his name, he and Solara must get past their enmity to work together and evade those out for their arrest. Life on the Banshee may be tumultuous, but as Solara and Doran are forced to question everything they once believed about their world—and each other—the ship becomes home, and the eccentric crew family. But what Solara and Doran discover on the mysterious Planet X has the power to not only alter their lives, but the existence of everyone in the universe…
********************
Have you seen the movie Overboard? If you haven't you definitely should – it's quality, and it's some of the inspiration for this book. I learned that through the little extras included with Uppercase.
I've read a lot more sci-fi than I thought I liked this year. It's good, and I did not give it enough of a chance last year. This genre is so exciting and interesting. Anything can happen in it. Solara and Doran's world is one that is vaguely familiar, but twisted around and constructed in such a different way that makes it really interesting. I love that life originates on Earth, but it's a luxury to live there. I think living somewhere else than Earth would be really interesting.
Solara is awesome. I like her creativeness and her ability to think on her feet. I would like to think I'd be as tough as her if I was in her situation, but I'm not sure. I like the sure and true things. I'm also one for rules. Her badassery is rival to that of Adele's from Wolf by Wolf.
Doran's turn of character was nice. It wasn't immediate, and he did have moments of weakness. It was something that was needed and added to the story.
The relationship between Solara and Doran is one I totally ship. It wasn't rushed – it took months to develop. Sometimes I feel like the relationships in these YA books are so fast! You meet the boy/girl at the beginning of the book and it seems like two days later they're already in love! The time lapse never seems quite believable.
The rest of the crew I grew to love like Solara did. They're my family, too. Cassia and Kane are definitely people I'd want to be friends with. Captain Rossi is an awesome father figure. He is someone I felt like I could look up to and be guided well. Renny is just an awesome guy. I'd have him swipe me some books 😉
THE PLOT TWIST THOUGH!!! I did not see that coming. It was out of left field! It was good though. One I wish was developed and included more in the plot!
Okee dokee, I'll let ya go now! Happy reading!
Sophie 🙂