Hey there! Looks like Tuesdays will be the day where I post extra reviews. I consume books pretty fast, so I think it might become a regular thing. Anyway Maiya's makeover of our blog is coming soon, and I'm excited to see what she has in store for us!
Today's review is of The Lies About Truth by Courtney C. Stevens.
Since I see a lot of reviews post some stats about the books they review, I'm going to start doing that, too.
Title: The Lies About Truth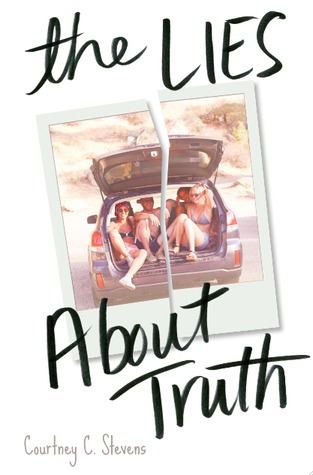 Author: Courtney C. Stevens
Publisher: HarperTeen
Description: Sadie Kingston, is a girl living in the aftermath. A year after surviving a car accident that killed her friend Trent and left her body and face scarred, she can't move forward. The only person who seems to understand her is Trent's brother, Max.
As Sadie begins to fall for Max, she's unsure if she is truly healed enough to be with him — even if Max is able to look at her scars and not shy away. But when the truth about the accident and subsequent events comes to light, Sadie has to decide if she can embrace the future or if she'll always be trapped in the past.
*********
I was super impressed by this book. I wasn't sure about it at first, but I knew there was something about it that I wanted to read it. I got this for Christmas from my wonderful parents along with some others, and I am just meandering my way through my piles of tbr books. I had planned to read it at some point this month and I finally have *pats self on back* (I have abandoned my tbr pile after this – too many books and I'm confining myself!!)
Anyway you're reading this for my thoughts on the book so here they are! It started off slow, but picked up pretty quick. I found myself feeling just so much for Sadie. I can't fathom having to start over my life in that kind of way. I can see why she felt so inferior – she had lived and seen herself a certain way for seventeen years and suddenly everything has changed.
I love that Gina, Gray, Trent, Max, and Sadie were all childhood friends. I personally have fantasized about having friends from that long ago. (Please tell me I'm not the only one!) Something about having that kind of history with someone attracts to me a lot.
Grief is something that strikes people in so many different ways, and it's very evident in this story. Sadie and Max have to deal not only with the physical changes that came with the accident, but also the emotional trauma that came with being in the car with Trent. I think there's something so heartbreaking when we read about Max holding his dying brother's hand. I have been struck in the feels. Give me a moment.
Gina and Gray are characters not to be overlooked either. They inadvertently caused the crash and they have to live with that guilt. It something awful, and I can't begin to imagine the pain they're experiencing throughout the novel.
Sadie's list is something I came to appreciate. It's her own way of organizing how she must heal herself. There's something relaxing about crossing things off lists, and it shows progress well. I feel like I'm actually being productive when I do! (Honestly, I have so many lists going on at the same time it's hard to keep up with them :P)
I just want to take a minute to applaud Sadie's parents. She does some kooky things and has complete meltdowns sometimes and they're there for her the whole time. Her parents are perfect for her situation, and I would hope everyone would be as understanding as they are in a situation like that.
The ending? Well, that was great. Well written to the point where it leaves lingering questions but ties up loose ends at the same time. It was sad to let these characters go, but I loved how hopeful their last lines were. I am very satisfied with how things played out.
I hope this review helped you in any way! Add it to your Goodreads here. I gave it 5/5 stars 🙂
Happy reading!
Sophie 🙂