Hello there! It's Sunday, and actually I'm on a boat right now. I won't be posting this week – you'll get to hear from the lovely co-founder/owner of this blog – Maiya! Yup, you heard me right 🙂 There will be no new posts unless I schedule them ahead of time (like I am now), so please give our fellow blogger a warm welcome.
ANYWAY back to the reason you're reading this post! I received this copy through my job, and I was excited to dive into it – so much so that I by-passed my TBR pile to read it. The expected release date of this is May 3rd by Disney Hyperion.
So for a little bit about the book: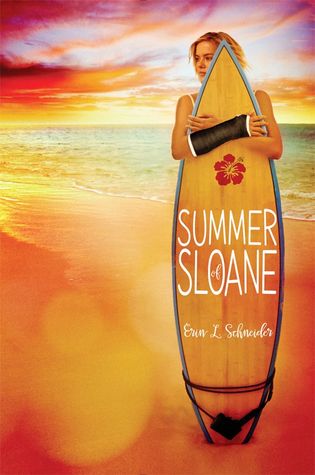 Warm Hawaiian sun. Lazy beach days. Flirty texts with her boyfriend back in Seattle.
These are the things seventeen-year-old Sloane McIntyre pictured when she imagined the summer she'd be spending at her mom's home in Hawaii with her twin brother, Penn. Instead, after learning an unthinkable secret about her boyfriend, Tyler, and best friend, Mick, all she has is a fractured hand and a completely shattered heart.
Once she arrives in Honolulu, though, Sloane hopes that Hawaii might just be the escape she needs. With beach bonfires, old friends, exotic food, and the wonders of a waterproof cast, there's no reason Sloane shouldn't enjoy her summer. And when she meets Finn McAllister, the handsome son of a hotel magnate who doesn't always play by the rules, she knows he's the perfect distraction from everything that's so wrong back home.
But it turns out a measly ocean isn't nearly enough to stop all the emails, texts, and voicemails from her ex-boyfriend and ex-best friend, desperate to explain away their betrayal. And as her casual connection with Finn grows deeper, Sloane's carefree summer might not be as easy to find as she'd hoped. Weighing years of history with Mick and Tyler against their deception, and the delicate possibility of new love, Sloane must decide when to forgive, and when to live for herself.
***********************
Wow, I really enjoyed this book. I wasn't sure after I read the first couple of chapters, but once I finally dug in, I found that I liked it a lot.
The setting made me totally jealous that I live in Michigan. The warmer climes call my name right now! However, I do love having all four seasons. It was interesting how the setting both helped and hurt Sloane in different ways. Going to Hawaii was definitely something she needed to do. I'm also kind of jealous she got to do this every summer.
The relationship between Sloane and  Mick is one I envy – at least the one they had in the past. I wish I had a girlfriend that I've known forever, and I always appreciate strong bonds between women. I was extremely surprised what Sloane found out about Mick toward the end of the book and how things ended between them. It made me sad.
Sloane and Tyler's relationship seemed to be similar to her and Mick's. I didn't like him. I don't think I was supposed to like him, but either way I can't stand a lying cheater like him *shakes fist angrily* I'm a bit miffed things ended better for him and Sloane than they did for Mick and Sloane.
Finn? Well he was alright. Tall, blue-eyed, and beautiful? The picture of perfection, but I didn't care for him too much. He reminds me of Xander Spence. (Oh, Xander, how do I love thee. Xander's from The Distance Between Us by Kasie West which I totally forgot to review. Ooops.)
Sloane herself I feel mixed about. On one hand she was kick-ass and I liked her spunk. On the other, she totally should have handled her problems better. In her position though, I can't say that I really blame her. I don't know what I would have done. Probably freaked out and read a book and avoided the world.
The overall story was pretty good. I liked the characters (more or less), and it was unique in a way that is hard to explain. This is definitely a feel good beach read, so you should totally pick it up. You can pre-order it from Amazon here. Goodreads rating was 4/5 stars.
Happy reading!
Sophie 🙂