Hi, guys! How has your week been? I'm here with another review. I read this on my first day of break – and I laughed out loud for most of the book much to the chagrin of my family. (If you're still wondering what book I'm talking about it's The Possibility of Now by Kim Culbertson. Read the title of the post!)
This is what the flap says: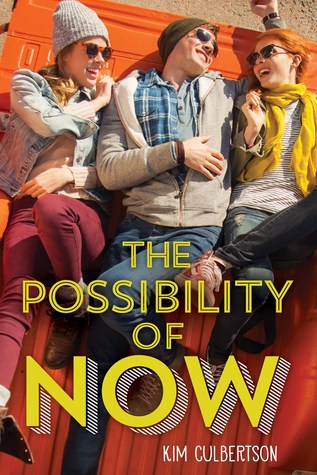 Mara James has always been a perfectionist with a plan. But despite years of overachieving at her elite school, Mara didn't plan on having a total meltdown during her calculus exam. Like a rip-up-the-test-and-walk-out kind of meltdown. And she didn't plan on a video of it going viral. And she definitely didn't plan on never wanting to show her face again.
Mara knows she should go back, but suddenly she doesn't know why she's been overachieving all these years. Impulsively, she tells her mom she wants to go live with her estranged dad in Tahoe. Maybe in a place like Tahoe, where people go to get away from everyday life, and with a dad like Trick McHale, a ski bum avoiding the real world, Mara can figure things out.
Only Tahoe is nothing like she thought. There are awesome new friends and hot boys and a chance to finally get to know Trick, but there is also still massive amounts of schoolwork. Can Mara stopping planning long enough to see the life that's happening right now?
*************
I related to this book so much! I am a major overachiever and a self-proclaimed worry-wart. I care a lot about school and how I do compared to others. Only recently have I started to relax more about it because I'm coming to grips with who I am as a person. (Wow that just got really deep. Swimming pool deep, at least.)
The characterization of Mara was well done. I felt like I really understood her as a person and her utter embarrassment about her calculus exam freak out – I would feel the same way! There is something so human about her that was refreshing. One of my favorite quotes was advice given to her – most people aren't thinking about you, they're probably just looking for their keys (to paraphrase it).
I often found myself smiling and laughing along with the book. Something about living in a tiny house in the middle of a forest makes for good humor. As a skier I recognized most of the terms the characters used and it was another dynamic I really enjoyed.
Logan Never was an interesting character. I couldn't decide if I liked him or not for the life of me. I flipped back and forth a lot, but in retrospect I'm glad he's a good guy. Isabelle is another girl I liked. She's spunky, sassy, and a good friend to Mara. She knows when to push her out of her comfort zone and is supportive of Mara and her choices.
The ending though!!!! I thought it was going to take a bit after Summer of Sloane but it didn't! There's a final twist that surprised me. I wish it wouldn't have skipped through time so much near the end. I wanted to know a little bit more about Mara's reaction to everything going on around her.
My rating on Goodreads is 4/5 stars. I would recommend it, maybe reread, but it was definitely worth reading.
Happy reading!
Sophie 🙂