Hi, guys! This review will be of A Tyranny of Petticoats edited by Jessica Spotswood. I've had the privilege to read Jessica's new contemporary novel Wild Swans early thanks to SourceBooks, and since I liked that one I decided to give this one a go.
Here's what it's about:
From an impressive sisterhood of YA writers comes an edge-of-your-seat anthology of historical fiction and fantasy featuring a diverse array of daring heroines.
Criss-cross America — on dogsleds and ships, stagecoaches and trains — from pirate ships off the coast of the Carolinas to the peace, love, and protests of 1960s Chicago. Join fifteen of today's most talented writers of young adult literature on a thrill ride through history with American girls charting their own course. They are monsters and mediums, bodyguards and barkeeps, screenwriters and schoolteachers, heiresses and hobos. They're making their own way in often-hostile lands, using every weapon in their arsenals, facing down murderers and marriage proposals. And they all have a story to tell.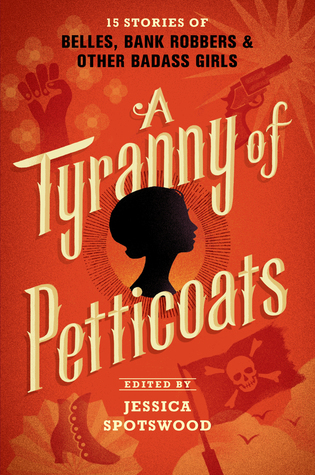 With stories by:
J. Anderson Coats
Andrea Cremer
Y. S. Lee
Katherine Longshore
Marie Lu
Kekla Magoon
Marissa Meyer
Saundra Mitchell
Beth Revis
Caroline Tung Richmond
Lindsay Smith
Jessica Spotswood
Robin Talley
Leslye Walton
Elizabeth Wein
************************************
Now if that isn't an impressive list of authors?! If you can't spot one or two that you've read you definitely need to go check them out! I've read Marie Lu and Jessica Spotswood before and I plan on reading so many more of them.
Each story was very unique. All of the authors took their own creative liberties with each girl (or girls) and made them fantastic. One of my favorite stories was of Lily and her sister who ran a saloon in Alaska during the Yukon Gold Rush. The way that story ended was amazing!
Going into it I wasn't sure what to expect – I haven't read many anthologies. I liked how each author included a note on her story at the end. It helped put some things into context and clarified some details.
With each girl's story I felt myself saying, "Yeah, right on!" All of them are very empowering. I don't think I've felt more proud of so many female characters all at once. In the story Bonnie and Clyde I really enjoyed the entire narration. This was set in the Great Depression and was something I loved because of the situation the girl was in.
I like how the tales are in chronological order. You can see the progression of America and women's rights within the nation at the same time. Some of the stories I wanted expanded! They left on a bit of cliffhanger and I'm curious to know what became of each girl.
I'm glad there's going to be a follow up novel featuring all new authors! It's titled The Radical Element and is set to release sometime in 2018 (as of now). Get. Hyped.
Happy reading!
Sophie 🙂