Hi, guys! Today's review is going to be on A Study in Charlotte by Brittany Cavallaro. This was our April read for The Book Junkies. I couldn't wait to read this, especially since I really enjoy Sherlock Holmes in general.
Here's what the book is about:
The last thing Jamie Watson wants is a rugby scholarship to Sherringford, a Connecticut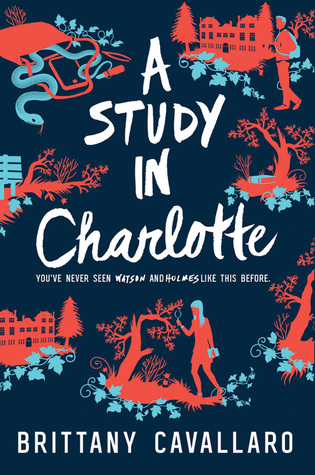 prep school just an hour away from his estranged father. But that's not the only complication: Sherringford is also home to Charlotte Holmes, the famous detective's great-great-great-granddaughter, who has inherited not only Sherlock's genius but also his volatile temperament. From everything Jamie has heard about Charlotte, it seems safer to admire her from afar.
From the moment they meet, there's a tense energy between them, and they seem more destined to be rivals than anything else. But when a Sherringford student dies under suspicious circumstances, ripped straight from the most terrifying of the Sherlock Holmes stories, Jamie can no longer afford to keep his distance. Jamie and Charlotte are being framed for murder, and only Charlotte can clear their names. But danger is mounting and nowhere is safe—and the only people they can trust are each other.
A Study in Charlotte is the first in a trilogy.
************
When this started popping up on Instagram I knew I had to put this on my TBR immediately. Sherlock Holmes is something I actually just recently have gotten into. I have always loved mystery books especially  The Boxcar Children by Gertrude Chandler Warner.
Charlotte is a witty character so much like her great-great-great grandfather. Her dry humor made me laugh out loud. Her strong character is someone so memorable that I have thought about her long after finishing the story. Her story is still such a mystery that I can't wait for the next book. I need to know more!
Jamie. Oh Jamie, what a sweetheart. I love Jamie. He's loyal to a fault and a good friend to Charlotte. He softens her edges and puts things into a new perspective for her that would be lost without him. I liked how the story was told in his point of view staying true to the form of the original tales. I think it would be unique if we got to hear from Charlotte herself as well throughout the story, but it helps her mystique that she has built up thanks to Cavallaro.
Re-tellings are, I imagine, hard to write. People have these preconceived notions about who the original characters are and who they should be and I imagine that it's hard to write it so people get past those ideas. Despite these challenges, Cavallaro comes out with a winning piece that I was/am addicted to. I promise this won't disappoint!
The mystery itself is enthralling. The story telling is excellent. I love hope it twists in on itself. I love trying to figure it out before the characters come to their conclusion, but I'm kind of crap at that lol 😛
Happy reading!
Sophie 🙂