Hi, guys! Gearing up for another week – hello May! Did you know this coming week is I Read YA week? It's a YA celebration put on by Scholastic and there will be a photo challenge on social media. Find me on Instagram(@mindofabookdragon) and Twitter(@bookdragonbooks) where I'll be fangirling daily.
Today's review is of Amber Smith's The Way I Used to Be. It was breathtaking. It was heartbreaking. It was eye-opening. Here's what the book is about: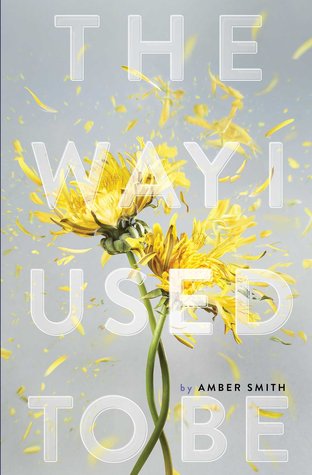 Eden was always good at being good. Starting high school didn't change who she was. But the night her brother's best friend rapes her, Eden's world capsizes.
What was once simple, is now complex. What Eden once loved—who she once loved—she now hates. What she thought she knew to be true, is now lies. Nothing makes sense anymore, and she knows she's supposed to tell someone what happened but she can't. So she buries it instead. And she buries the way she used to be.
Told in four parts—freshman, sophomore, junior, and senior year.
Publish date: March 22, 2016
Page count: 384
Publisher: Margaret K. McEldery Books
**************************************
What a tough subject to write on. It's something that isn't talked about a lot and I appreciate Smith for such a realistic portrayal of such an awful experience.
As I said above, this book opened my eyes. Eden was so quiet about her rape and each time she wanted to tell someone it was like her throat seized. I was heartbroken for her as her hope withered away and her silent screams for help went unnoticed.
The transformation in Eden was quiet and sudden, yet the process took over her entire life. I wish someone had noticed. I wish she had been able to tell someone sooner. The raw emotion that is felt within the book is something that got to me. It truly shows that you never really know how someone else is feeling if they don't want you to know.
Eden is a beautiful character. I love how dynamic she is and her inner strength is what saves her in the end. Here's one of my favorite quotes:
"He's not the hero and he's not the enemy and he's not a god. He's just a boy. And I'm just a girl, a girl who needs to pick up her own pieces and put them back together herself." 
It's so powerful. In the end, Eden becomes her own hero and realizes that she has more power than she realized. What was so scary was how out of control she felt, and it's sad that this actually happens to girls every day.
Props to Amber Smith for writing something so unfiltered and real. I definitely recommend this to everyone because it changes your perspective on rape and rape culture. It made me think, and that is always one of the best parts of the reading experience.
Happy reading!
Sophie 🙂