Hello, there! How are you doing? I hope it's well, but if not I hope it gets better 🙂 Today I'll be reviewing Rebel of the Sands by Alwyn Hamilton which I received in the March Uppercase Box. It was a wonderful book when I couldn't seem to get myself out of the book hangover I had from The Way I Used to Be by Amber Smith.
Wondering what the book is about?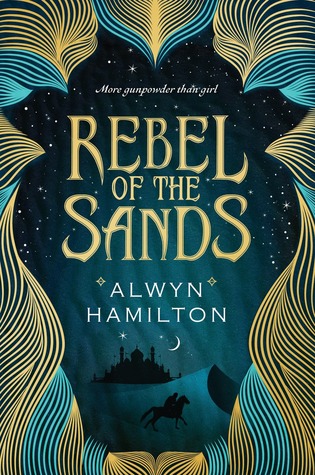 Mortals rule the desert nation of Miraji, but mystical beasts still roam the wild and barren wastes, and rumor has it that somewhere, djinni still practice their magic. But there's nothing mystical or magical about Dustwalk, the dead-end town that Amani can't wait to escape from.
Destined to wind up "wed or dead," Amani's counting on her sharpshooting skills to get her out of Dustwalk. When she meets Jin, a mysterious and devastatingly handsome foreigner, in a shooting contest, she figures he's the perfect escape route. But in all her years spent dreaming of leaving home, she never imagined she'd gallop away on a mythical horse, fleeing the murderous Sultan's army, with a fugitive who's wanted for treason. And she'd never have predicted she'd fall in love with him…or that he'd help her unlock the powerful truth of who she really is.
Publish date: March 8, 2016
Publisher: Viking Books for Young Readers
Pages: 320
******************************
This is an awesome mix of a Western and a fantasy book. There's both mystical figures and sharpshooters – where could you go wrong?! I had been keeping my eye on this since we received it in our store and thankfully I hadn't bought it until after I got my Uppercase!
Amani is one of my favorite female characters. What makes her so awesome is her own confidence and loyalty. I love those characteristics in a girl. She doesn't just tempt fate, she masters it. I admire her spirit and verve throughout the entire book. I do admit I was surprised in the beginning when she left Jin (don't worry that's not a major part of the story!). This made her all the more likable in my book 🙂
The infusion of magic in the book made it all the more, well, magical. I thought it would be a bit of a retelling, and was happily surprised when it wasn't. (Side note: I would love a retelling of Aladdin specifically, just saying!!) The world building is complex and very elaborate. The entire plot is so riveting! I couldn't put this down – I stayed up really late to finish it 😉  Viva la revolution!
Happy reading,
Sophie 🙂