Hi, guys! What's new? I'm doing well 🙂 Today's review will be of April Tucholke's Wink Poppy Midnight which was released this past March. I saw so much of this on social media, and I couldn't wait to get my hands on this!
A little bit about the book: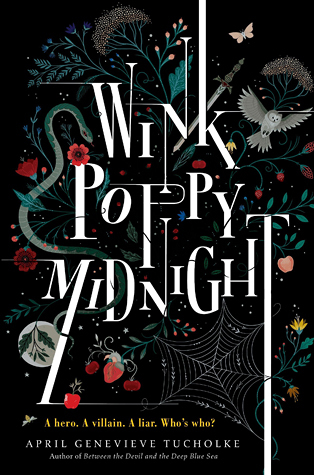 Every story needs a hero.
Every story needs a villain.
Every story needs a secret.
Wink is the odd, mysterious neighbor girl, wild red hair and freckles. Poppy is the blond bully and the beautiful, manipulative high school queen bee. Midnight is the sweet, uncertain boy caught between them. Wink. Poppy. Midnight. Two girls. One boy. Three voices that burst onto the page in short, sharp, bewitching chapters, and spiral swiftly and inexorably toward something terrible or tricky or tremendous.
What really happened?
Someone knows.
Someone is lying.
Publish date: March 22, 2016
Publisher: Dial Books
Page #: 247
********************
I understand why there was so much hype surrounding this book. I love the different perspectives it was told in, and I couldn't find a reliable narrator in any of them which was an experience in of itself.
I read some reviews on Goodreads after reading it, and it always amazes me the different opinions people post. I have never written such a negative review, but I'm glad for some people's honesty!
In my own opinion, I think this was a well done piece. The concept/premise of the novel intrigued me, and it was very unique in its storytelling. I liked reading all three perspectives. I felt like I got to know each one of them intimately.
I like how unlikeable Poppy is. There is always something a bit alluring about a bad girl, and she's beautiful and broken. I like how her story ends, her hope and independence is something I found admirable. Wink is a mix of sweet and sour. If she were a candy she'd be a SourPatch Kid for sure (a red one of course!). I like all the stories floating around her head and the way she cares for the Orphans. I love mama Bell, too. Her character is one I wish I had gotten to know a little better. Midnight is sweet as well. I felt a bit bad for him in the end when everything is revealed, but it's fine in the end. Character development is an A+ for me.
Let me take a minute to admire that gorgeous cover. IT'S SO BEAUTIFUL! WHOEVER DESIGNED IT GETS ALL THE GOLD STARS! I feel like it's a very accurate representation of the story too. Bits and pieces of it are scattered over the cover, and it's fun to match the items with the scenes.
Overall I gave it 5/5 stars on Goodreads, and I think it's worth your time giving it a read.
Happy reading!
Sophie 🙂