Hello, there! I hope you're doing well today! I recently finished reading The Wrath and the Dawn by Renee Ahdieh, and I'm so glad I already bought the sequel! (To be honest, my parents helped me pick my next read and they agreed on this one.) I'm glad I finally read it because the talk surrounding books always gets me. I don't have a favorite reviewer, but I do trust Beth and Emma.
Here's the description of the book:
One Life to One Dawn.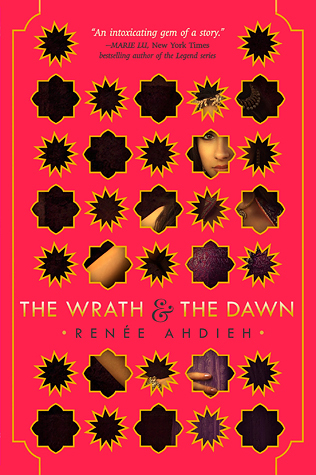 In a land ruled by a murderous boy-king, each dawn brings heartache to a new family. Khalid, the eighteen-year-old Caliph of Khorasan, is a monster. Each night he takes a new bride only to have a silk cord wrapped around her throat come morning. When sixteen-year-old Shahrzad's dearest friend falls victim to Khalid, Shahrzad vows vengeance and volunteers to be his next bride. Shahrzad is determined not only to stay alive, but to end the caliph's reign of terror once and for all.
Night after night, Shahrzad beguiles Khalid, weaving stories that enchant, ensuring her survival, though she knows each dawn could be her last. But something she never expected begins to happen: Khalid is nothing like what she'd imagined him to be. This monster is a boy with a tormented heart. Incredibly, Shahrzad finds herself falling in love. How is this possible? It's an unforgivable betrayal. Still, Shahrzad has come to understand all is not as it seems in this palace of marble and stone. She resolves to uncover whatever secrets lurk and, despite her love, be ready to take Khalid's life as retribution for the many lives he's stolen. Can their love survive this world of stories and secrets?
Inspired by A Thousand and One Nights, The Wrath and the Dawn is a sumptuous and enthralling read from beginning to end.
Publisher: G. P. Putnam's Sons Books for Young Readers
Publish date: May 12, 2015
Page #: 395
**************************
I really am dying to write up a review of this before all of my mind is consumed by The Rose and the Dagger because THE WRITING DEFINITELY KEPT MY INTEREST!
Okay, so after hearing so much about this book I'm glad I actually picked it up! This something that if I didn't have the sequel on hand like I did I might have sunken into a deep and wallowing hangover. (I'm currently reading The Rose and the Dagger and all I have are good things to say about this one too! Review to come soon 🙂 )
At first, I wasn't sure how it would go. Books with so many accolades is one that makes me a bit hesitant because what if it doesn't live up to my expectations of it, you know? I'm extremely glad this one did.
As I have previously noted, I am a major sucker for re-tellings. It's fun to reimagine a world that has already been well established and is well known. While I haven't read the original A Thousand and One Nights I imagine it's excellent from the many books I see drawn from its setting. The world of Shahrzad and Rey is something that has both real-world elements as well as fictional ones. Something about the magic and the sand draws me in for an intoxicating world of wonder.
Shahrzad is freaking AMAZING! Props to Ahdieh for writing such a strong female character. Some authors try and do achieve very good characters, but one thing that nags at me it their reliance on the guy or the expectation to end up with a guy, but Shazi is one I know who would beat up the guy (quite thoroughly I might add) after he tried to put her in a place she didn't want to be in. I like especially how she fights being objectified. Many times, not just in novels, people want to be each others' and she fights to be on equal footing with Khalid and her own person as well.
I found Khalid to have a bit of a stereotypical background story, but I like him all the same. He's a bit like a fungus, you aren't sure about it at first, but he grows on you in the end. His fierce and undying loyalty is a characteristic I admire as well as his brutal honesty.
The narration (3rd person omniscient) allows for the reader to see the many perspectives and pieces come together within the novel. I wasn't sure I liked it when it drew away from Shazi and her life in the palace, but I found it necessary to the book as a whole. I do however like her perspective best.
Shazi's father is one I grew weary of. He just didn't seem up to any good after he is first introduced, and now that I'm into the sequel it makes sense why his character is set up this way.
The emerging love triangle is well done. I do not like them if it isn't necessary or poorly written. Tariq, Shazi, and Khalid are a bit reminiscent of  Katniss, Peeta, and Gale, but similarity ends where Shazi is much more assured of herself in her choices. Theirs is a triangle I wish to see played out even more (which it is in the second book).
I gave the book a 5/5 star rating on Goodreads overall. The writing and character development is what made me love it. Shazi is officially my new #womancrushwednesday 😉
Happy reading!
Sophie 🙂