Hello, guys! I'm here today to share the gorgeous writing of Shannon M. Parker with you. I heard about The Girl Who Fell back in February before it was released in March, and it intrigued me – abusive relationships aren't widely discussed in YA and Parker's book is a bold, direct approach to a tough subject.
Publisher: Simon & Schuster/ SimonPulse
Publish date: March 1, 2016
Page #: 320 (hardcover)
High school senior Zephyr Doyle is swept off her feet—and into an intense and volatile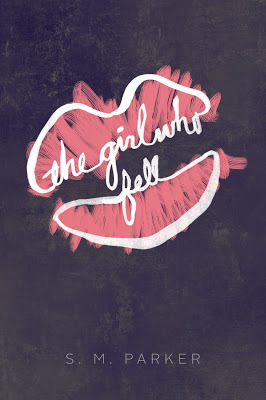 relationship—by the new boy in school.
His obsession.
Her fall.
Zephyr is focused. Focused on leading her team to the field hockey state championship and leaving her small town for her dream school, Boston College.
But love has a way of changing things.
Enter the new boy in school: the hockey team's starting goaltender, Alec. He's cute, charming, and most important, Alec doesn't judge Zephyr. He understands her fears and insecurities—he even shares them. Soon, their relationship becomes something bigger than Zephyr, something she can't control, something she doesn't want to control.
Zephyr swears it must be love. Because love is powerful, and overwhelming, and … terrifying?
But love shouldn't make you abandon your dreams, or push your friends away. And love shouldn't make you feel guilty—or worse, ashamed.
So when Zephyr finally begins to see Alec for who he really is, she knows it's time to take back control of her life.
If she waits any longer, it may be too late.
**************************************
This book made me feel so many things at once: anger, sadness, joy. I wanted to hug and shake Zephyr the entire time I was reading the book. I felt so much emotion during this book that I had to live tweet it to get it all out. I am extremely glad I read this because it was eye-opening.
When you're in a toxic relationship it's sometimes hard to see for yourself how bad it is until it's over. Parker's emphasis on Zephyr's character and her strong personality shows that everyone is vulnerable to thinking that everything is under control in a toxic relationship when things really aren't. I connected and related to Zephyr so much on this point because sometimes I don't see the most obvious things.
I love Zephyr throughout the entire book, though. She is a strong woman that made a mistake (or a series of them). It was wonderful to see her grapple with the changes in her life and (try to) right the wrongs. Of all female characters in YA she is one I identify with the most. Her driven, focused personality meshes perfectly with mine, and seeing her go through this gave me hope. Zephyr is a beacon of hope to other girls who can recognize themselves in her. From her I learned that you need to speak up. You can't afford to lose your voice, so you need to talk/tell people as many times as it's necessary to be heard. Someone is listening.
Gregg and Lizzie are two wonderful characters that are there throughout the entire book. Their constancy is something that is crucial to Zephyr's growth as a character, and they let her know that there is someone always there for her. I like how Lizzie and her relationship is there for a stark contrast to Zephyr and Alec's. It lets Zephyr justify her own actions/bad decisions, and it lets her see what a relationship should be.
Alec… I knew he was a bad character, but sometimes as a reader you can't help but love the bad boy. When Zephyr started to change herself for him, I couldn't help but be disappointed. I started yelling out loud my frustration with her (it startled my sister's dog a bit lol). There is a point where I just want to take her by the hand and talk to her about her. Zephyr starts to isolate herself from everyone, and it's heartbreaking to see her go down that path.
This is a great example that not all relationship abusive is physical. Most of the time it's psychological, and it destroys a person – the scars are always there and recovering is really hard. You start feeling like you don't know yourself, and it's hard to trust your judgement afterward. I applaud Parker for approaching this subject unflinchingly and creating a story that focus on a subject that should be talked about more, especially in YA. Teens need to be better educated on proper relationships because today there are too many bad ones that set the example for everyone. The media (and some other literature) sensationalizes the edgy, bad character as someone desirable and mysterious. There aren't enough good examples of relationships based on mutual respect. Those trapped in the relationship need to know that they are not alone and there are people ready to help them. While visiting Parker's blog I found this video she linked of an Australian blogger who talks about the same thing. I really loved it and I think it's worth your time to watch it. Here's the link.
Okay, I think I have said my piece. Keep an eye out for my interview with Shannon this Friday!
Happy reading,
Sophie 🙂