Hello! Join me today in the discussion between Beth and I about our May Book Junkies read – When We Collided by Emery Lord. This was selected by Beth, and we both were extremely excited to read it. I haven't read any of her other books, but I bought a signed copy of The Start of You and Me while I was at BookCon. You can find us on Goodreads here, we would love for you to join us this month!
Here's what May's book is about: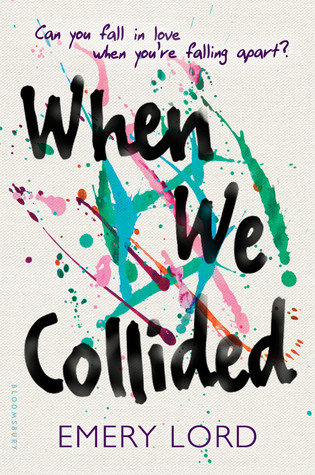 We are seventeen and shattered and still dancing. We have messy, throbbing hearts, and we are stronger than anyone could ever know…
Jonah never thought a girl like Vivi would come along.
Vivi didn't know Jonah would light up her world.
Neither of them expected a summer like this…a summer that would rewrite their futures.
In an unflinching story about new love, old wounds, and forces beyond our control, two teens find that when you collide with the right person at just the right time, it will change you forever.
Beth's review | My review has yet to be published! Keep an eye out for it in the coming weeks though!
***********************************
This month Emma couldn't join us, but here's Beth and I talking about this wonderful book.
What did you think of Vivi?
Beth: I admit, it took me a while to like her. I just didn't get her mood swings and strange feelings, and I didn't get her..in fact, I found her very self centred until I found out about a certain thing!
Sophie: I agree with Beth. It took a minute for me to like her but as the book progressed I fell in love with her like Jonah. I love her vivaciousness!
Did you fall in love with Verona Cove?
Beth: I want to live somewhere like there so badly! It seems so charming & sweet, especially just having one of everything in the town, it's all you need.
Sophie: What a sweet little town. I could draw parallels between that town and mine, but that one is a bit smaller. I have to admit that I love Verona Cove too.
Which of Jonah's dishes would you love to eat?
Beth: The pizza! And there was a salad I remember him dreaming up once that sounded incredible.
Sophie: Any of them. I trust his judgement!
How did you feel about the element of art in the book?
Sophie: I found it to be crucial to the story. I like how free of constrictions art is and it emphasized Vivi as a character. I think people find themselves in art more often than not.
Beth: I have to agree with Sophie! I love books that weave art/design/fashion within the story, and When We Collided was no different. And just as Sophie said, it really added to Vivi's character, and she wouldn't have been right without it, just like Lola in Lola and the Boy Next Door and June in I'll Give You the Sun.
Okay, we won't tell. Judge that cover.
Sophie: BEAUTIFUL. 10/10 would pet again. I don't know how cover artists do it, but they sucker me in so well.
Beth: I have to say when I first saw the book in a bookstore I just got it off the shelf and admired the cover. It shows the book perfectly, messy but beautiful.
What was your favorite part of the book?
Sophie: The very end. It didn't end cliche at all. I kind of saw it would happen, and I'm glad it ended that way. It was extremely bittersweet, but promised hope.
Beth: I loved the start and the end. I love the start because it drew me in so quickly, and the end because as Sophie said, it was so beautifully bittersweet.
*********************************************
Emma will be able to join us again this month! We're so excited to have her back after the evil exams are done. Our June book is A Court of Thornes and Roses by Sarah J. Maas. This is my first book by her, and I'm curious to see what all the hype is about. Yay for retellings!
Don't forget you can find The Book Junkies on Goodreads and now Instagram! Tag your photos of our current read with #thebookjunkies for a chance to be featured!
Happy reading,
Sophie 🙂