Hello, guys! Today I'm joined with the wonderful author Shannon M. Parker, debut author of The Girl Who Fell. I recently shared my review of that lovely, lovely book this past Sunday and if you were wondering what I said about it you can find a link to it here. Shannon wrote on a topic that isn't discussed enough in YA lit, and I strongly encourage you to check out her book!
Here's what Shannon has to say about herself:
HERE ARE TWELVE RANDOM BITS THAT MIGHT INTEREST YOU. OR NOT, IT'S OKAY.
I've collected 37 stamps in two passports.
I'm crap at applying make-up and don't own any.
I dig old trucks. Old homes. Vintage cars.
Grease is my favorite movie. Or is it The Princess Bride?
I have a complicated relationship with condiments.
People always think they've met me before or that I remind them of someone they know.
Favorite authors? I would like to marry John Green, please. Have playdates with Rainbow Rowell. Drinks every Wednesday with Katie Crouch and an affair with Neil Gaiman (sorry, John). Oh, and I  worship at the altar of Sue Monk Kidd.
I cry at commercials. It's bad.
I'm amazed you're committing to this weak list.
I once bottle-fed an abandoned kitten for weeks. And possibly a squirrel.
I've hiked to the bottom of the Grand Canyon and to the top of the Andes.
I have a 14-year-old chicken named Mable. She likes to follow me. Sometimes I follow her.
SOME FORMAL STUFF:
I've written some short stories and they've earned some awards but I'm happiest when writing novels. I hang out with the ladies at Sixteen to Read and do stuff for the The Sweet Sixteens, which means I'm surrounded by a lot of talent.
I also have a few degrees. From Saint Michael's College, University of Massachusetts at Boston and University of Southern Maine. When I'm not possessed by my characters, I help at-risk families gain literacy and citizenship skills.
And her official author bio says…
Shannon Parker lives on the Atlantic coast in a house full of boys. She's traveled to over three dozen countries and has a few dozen more to go. She works in education and can usually be found rescuing dogs, chickens, old houses and wooden boats. Shannon has a weakness for chocolate chip cookies and ridiculous laughter—ideally, at the same time. The Girl Who Fell is her first novel. Find her at www.shannonmparker.com
You can find her these places: website / Instagram / Twitter / Goodreads
Her novel, The Girl Who Fell, is about this:
High school senior Zephyr Doyle is swept off her feet—and into an intense and volatile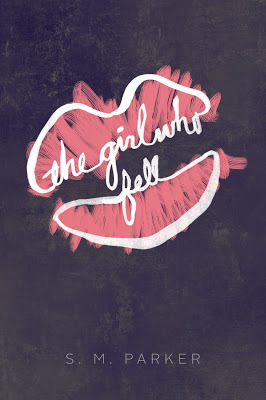 relationship—by the new boy in school.
His obsession.
Her fall.
Zephyr is focused. Focused on leading her team to the field hockey state championship and leaving her small town for her dream school, Boston College.
But love has a way of changing things.
Enter the new boy in school: the hockey team's starting goaltender, Alec. He's cute, charming, and most important, Alec doesn't judge Zephyr. He understands her fears and insecurities—he even shares them. Soon, their relationship becomes something bigger than Zephyr, something she can't control, something she doesn't want to control.
Zephyr swears it must be love. Because love is powerful, and overwhelming, and … terrifying?
But love shouldn't make you abandon your dreams, or push your friends away. And love shouldn't make you feel guilty—or worse, ashamed.
So when Zephyr finally begins to see Alec for who he really is, she knows it's time to take back control of her life.
If she waits any longer, it may be too late.
***************************
Shannon was so fun to talk to! Here's our chat:
Sophie: Hi, Shannon! Welcome to our blog, it's so wonderful to have you here. Thank you for taking time to be here!
Shannon Parker: Hi Sophie! Thank you so much for having me on your blog today!
S: Tell us something we can't find in your author bio.
SP: I am jealous of all the people who are raised in homes filled with books.
S:Your debut, The Girl Who Fell, focuses on a topic that is relatively unique to YA lit. How did you come up with the concept?
SP: There are so many books that explore the magic of first love. How it is tempting and luscious and beautiful. But it is also so scary. A girl asks herself: Can I trust this person with my heart? My body? My dreams? And there are plenty of books that scream YES to these questions. They are the books of Happily Ever After.
I wanted to write a story that explored the dangers of first love. What happens when you can't trust the person you love? What happens when love turns toxic? And how does a strong and determined girl fall for a charming boy who is—at his core—awful and damaged (and damaging)?
I wanted to write this story because I know it is a reality for countless teens and I don't think it is talked about enough. I wanted to write a book that showed teen victims of dating manipulation or abuse that it is never their fault and that they always, ALWAYS have the right to regain their voice.
S: I completely agree that dating violence isn't discussed enough. TGWF is a perfect representation of it. Zephyr is such a strong young woman! Was there inspiration for her character? 
SP: Every strong girl I have ever known and there are A LOT of them!
S:Do you see yourself in any of your characters? With whom can you relate to the most?
SP: I'm probably most like Gregg. I like all the funny, but at my core I am a fiercely loyal friend.
S: Alec is a complex character as well, did you enjoy writing him? 
SP: Alec's character was the hardest to write. I needed to have the reader fall for Alec the way Zephyr does. He needed to be charming and say all the right things. Even if the reader can see that his motivations are suspect, Zephyr can't. This is true of real relationships, where friends and family can see the way a person is being manipulated, but the victim only sees the good, until it is often too late. Alec made me uncomfortable when I was writing his dialogue and actions that felt real, right.
S: I have to say you constructed him very well. It was horrifying to watch Zeph endure so much! I love Lizzie, too! How did you come up with such fierce females?
SP: Oh, how I love Lizzie! She is a mashup of every fantastic friend I've ever had. She's so loyal and smart and savvy and has a joke or quick comment at the ready. I'd like to hang out with Lizzie for reals.
S: We should all go get pizza together and talk writing. That'd be awesome! What was your favorite scene to write?
SP: One of my favorite scenes in the book is when Alec is pushing Zephyr on the swing at the park. There is so much innocence in this scene, but also something deeper stirring for Zephyr—like she is caught between being a child and a woman as he pushes her.
S: Did you learn anything while writing this novel? If so, what was it?
SP: I learned that some people will love my debut. Some will hate it. And that is all okay.
S: Okay, steering away from my Zephyr love, are there any works-in- progress you can tell us about?
SP: Yes! Kind of! I have a contemp YA set to release in August of 2017. It hasn't been officially announced yet (soon!) but the story follows kickass lobster boat captain, Rilla Brae, who sees a ghost haunting a mysterious and abandoned island just off Maine's coast. I also am a contributing author to a YA Anthology, WELCOME HOME, which is a series of stories on adoption and set to release in September in 2017–a project very near and dear to my heart.
S: Oh my gosh, that's so exciting!!! Thank you so much for sharing! What do you do when you're not writing?
SP: Laundry.
S: Lol, that's awesome. What are you currently reading?
SP: I just finished THE WEIGHT OF ZERO by Karen Fortunati and was blown away by the perfection of this debut. Fortunati's talent is remarkable. Soooooo good.
S: Would you rather only read the first or last page of a book?
SP: Can I just say how much I love this question? It's brilliant! I would have to say First Page because then all the things are still possible—in my mind, at least.
S: Lol I can't take all the credit for the question! I found it floating around in interwebs, but I love it too! Alright we'll wrap it up soon here! Are there any lingering comments you'd like to make?
SP: Only to say THANK YOU for reading books, loving books, advocating for books. I'm soglad you loved my debut, and I'm thrilled that you reached out for this interview!!
S: THANK YOU, Shannon! It was so fun speaking with you! I wish you luck and continued success with your writing!
******************************
Shannon was generous to even offer up a copy of The Girl Who Fell for a giveaway! Click this link to Rafflecopter to enter! This is open to residents of the U.S. only and ends a week from today!
Thank you everyone for reading today, I hope you enjoyed this! It was a wonderful way to end my school year!
Happy reading,
Sophie 🙂