Hey there! It's another review here for the wonderful sequel of The Wrath and the Dawn I'm so glad I had this on hand as I finished that book! If you're looking to read about that book before you read this review click here.
Please note that while all of my reviews are spoiler-free, sequels will be a bit of a spoiler due to their nature. If you wish to not be spoiled for The Wrath and the Dawn (a little) I recommend you don't read this!!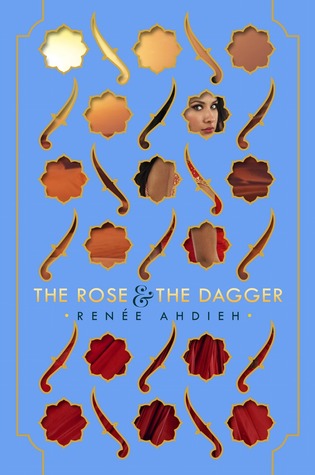 The much anticipated sequel to the breathtaking The Wrath and the Dawn, lauded by Publishers Weekly as "a potent page-turner of intrigue and romance."

I am surrounded on all sides by a desert. A guest, in a prison of sand and sun. My family is here. And I do not know whom I can trust.

In a land on the brink of war, Shahrzad has been torn from the love of her husband Khalid, the Caliph of Khorasan. She once believed him a monster, but his secrets revealed a man tormented by guilt and a powerful curse—one that might keep them apart forever. Reunited with her family, who have taken refuge with enemies of Khalid, and Tariq, her childhood sweetheart, she should be happy. But Tariq now commands forces set on destroying Khalid's empire. Shahrzad is almost a prisoner caught between loyalties to people she loves. But she refuses to be a pawn and devises a plan.
While her father, Jahandar, continues to play with magical forces he doesn't yet understand, Shahrzad tries to uncover powers that may lie dormant within her. With the help of a tattered old carpet and a tempestuous but sage young man, Shahrzad will attempt to break the curse and reunite with her one true love.
Publisher: Putnam
Publish Date: April 26, 2016
Page #: 420 (hardcover)
**********************************
The ending was amazing! I have to say that duologies are starting to rise, and I enjoy them. I do wish, however, to live in Sharzad and Khalid's world more. It was quite fabulous.
I can't remember if I've talked about this in my review of The Wrath and the Dawn but the world building in this book is excellent.  It includes real cities, but leaves enough specific details out that Ahdieh has room  to play around with setting and language. In the first book she had a glossary that explained everything, which was really cool.
The triangle between Sharzad, Khalid, and Tariq is done very well. As I've previously mentioned, I don't like love triangles if they don't serve a purpose and aren't written well. This one serves a purpose right from the very beginning. Sharzad's refusal of Tariq's love is what sets the war into motion. All of them are very passionate characters, and both men admire Sharzad's strength as a woman.
I promise not to rant about how awesome Sharzad is because I did that in my first review. I will however talk about how much more I like her after finishing this series. She still is the independent, fierce woman that she is in the first book. I like that her character doesn't change in that aspect, and I like how her character adapts in the situations she's placed in.
The ending of the first book totally left you hanging about Sharzad's fate and the role her father plays in it. This ties everything together and gives you more of an insight into Jahandar's thinking. It's a sad and broken place, but his final sacrafice is one that I can truly appreciate.
Irsa becomes a bigger character in this novel, too. Her character grows the most relative to the others, and she becomes a beautiful young woman. She may not be as strong as Sharzad, but she has a spark that will bring her places.  I came to really enjoy reading through her perspective. The power and strength of a sister's bond is one that is comparable to Safi and Iseult.
I can't complain about the ending of the story – only that it ended. I wish there was more about these gorgeous characters. I was so sad when this story came to an end. I higly recommend this, even if you aren't sure that this is your cup of tea you should give it a chance.
Happy reading!
Sophie 🙂