Hi, there! I hope you're having a lovely day today! Right after I finished my interview with Siobhan, I had to read her latest book – The Last Boy and Girl in the World. It was both a really quick read and had a lot of depth to it.
Here's what it's about: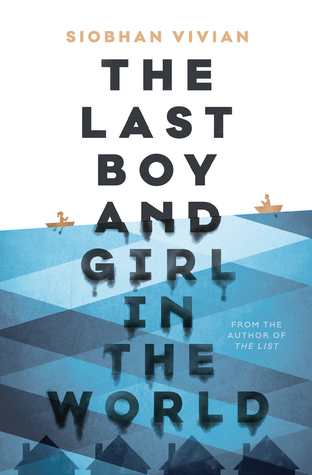 What if your town was sliding underwater and everyone was ordered to pack up and leave? How would you and your friends spend your last days together?
While the adults plan for the future, box up their possessions, and find new places to live, Keeley Hewitt and her friends decide to go out with a bang. There are parties in abandoned houses. Canoe races down Main Street. The goal is to make the most of every minute they still have together.
And for Keeley, that means taking one last shot at the boy she's loved forever.
There's a weird sort of bravery that comes from knowing there's nothing left to lose. You might do things you normally wouldn't. Or say things you shouldn't. The reward almost always outweighs the risk.
Almost.
It's the end of Aberdeen, but the beginning of Keeley's first love story. It just might not turn out the way she thought. Because it's not always clear what's worth fighting for and what you should let become a memory.
Release date: May 26, 2016
Publisher: Simon & Schuster Books for Young Readers
Page #: 432 (hardcover)
*****************************
I can't believe how fast I finished such a decent sized book – it only took two days. I had been planning to read it after When We Collided, and I couldn't wait to read it after interviewing Siobhan herself. It was a joy to meet and speak with her.
The plot is very, very unique, though Siobhan says it's inspired by a real event. I was surfing the web about this and I found this article on MentalFloss with cities around the world that have "drowned." If you were wondering what article I was reading I've linked it above, just click 'MentalFloss.' That being said, I don't know how I would feel if my town started to flood with water and eventually drown. I would want to save all of my books! I live close to Lake Michigan and there's a river nearby, so I suppose it's possible.
Keeley is a character that I found unlikeable, yet I still liked how unlikeable she was. She had faults, she had poor judgement in some instances, and that's what made her character so much more relatable and real to me. most of the book I wanted to shake her, but I'm not sure I would have done much different if I was in her position.
The family dynamic was one that isn't explored much in YA. Keeley's dad had an accident that left him with limited mobility and with a lot of bitterness. To compensate, Keeley's mom has to work her butt off to pay for everything and save up for Keeley's college. Many times there are minor characters who have the town crazy as a parent, but Keeley is the one who has that parent. It added to the weight and pressure that Keeley was feeling to hold onto her past. I think this added a lot of depth to the plot and what it was about.
A major theme throughout the book is growing up and letting go which really makes it a coming of age novel. I really like how it keeps coming up because its one that we all have to face at some point. We learn a lot about ourselves in times like this, and our relationships are truly put to the test.
The romance in the novel was pretty good. I wasn't sure what it was going to be like exactly, but I like how everything ended up. I just want to say I CALLED IT!!!!! That is all.
Happy reading!
Sophie 🙂