Hi, guys! I'm here to talk about Emery Lord's most recent release When We Collided.  This was our May read for The Book Junkies. You can find us on Goodreads here. We would love for you to join us, so just go ahead and join 🙂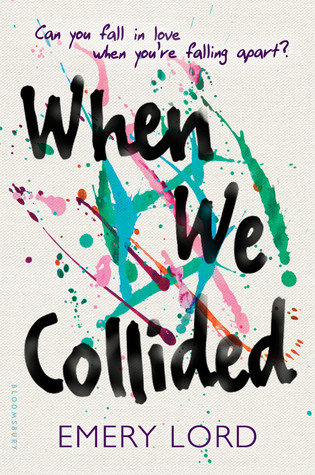 As I said, we read When We Collided for May. You can find our dicsussion here!This was released in early April and I was so excited to read it. Here's what the book's about:
We are seventeen and shattered and still dancing. We have messy, throbbing hearts, and we are stronger than anyone could ever know…
Jonah never thought a girl like Vivi would come along.
Vivi didn't know Jonah would light up her world.
Neither of them expected a summer like this…a summer that would rewrite their futures.
In an unflinching story about new love, old wounds, and forces beyond our control, two teens find that when you collide with the right person at just the right time, it will change you forever.
Publisher: Bloomsbury USA Childrens
Release date: April 5, 2016
Page #: 352 (hardcover, US edition)
*******************************
I was so excited for this book! I don't always really care about who blurbs what, but I couldn't help but notice that one of my favorite authors, Julie Murphy, did, so I knew she wouldn't lead me astray!
Vivi is fabulous. I love how boisterous and vivacious she is. I knew there was something going on with her that she was hiding the whole time, and after the whole thing is revealed I could see how it affected her character. At times I found her to be too much and some things she did really bothered me, but her overall character is gorgeous. Vivi is a wonderful young woman, and I can tell a lot of research went into helping shape her character. I wish I were half as creative as her. Maybe if I was I would have written my own novel by now!
Jonah has a family that reminds me of mine. I have a larger family than most and I love all of my siblings and all of the noise they make. It's never a dull day, even though most of them have moved out of the house by now. I like how Vivi revives the shell of a family that they were, and you can see the weight of grief that rests on all of their shoulders.
I wish I had gotten the chance to meet Jonah's father. I know that is totally beside the point of the entire book, but he seems like a man I would like to know. I have a feeling he's a bit of an Atticus Finch character – one that is admirable and just. (Side note: I was a bit disappointed with his turn of character in Go Set A  Watchman – review here.)
The alternate perspectives really added to the story. I think they came in at the right points of the story and gave really great perspective into each character. I wonder what Vivi's mom was thinking throughout the whole thing. It couldn't have been easy for her to see everything going on and try to figure out what to do.
Alright that's all for now! Have a wonderful day!
Happy reading,
Sophie 🙂