Hi guys! I hope you're having a good day! This was the second book I read in the month of July as well as The Book Junkie's July pick. The Book Junkies is a book club that my friends and I started on Goodreads. I linked the page if you wanted to check it out.
So what is this book about anyway??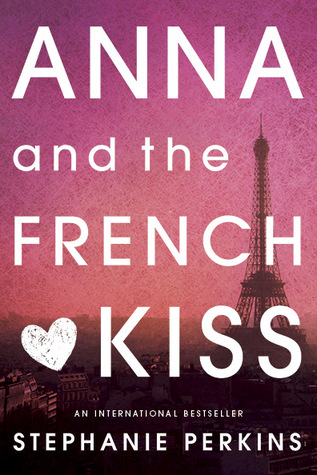 Can Anna find love in the City of Light?
Anna is happy in Atlanta. She has a loyal best friend and a crush on her coworker at the movie theater, who is just starting to return her affection. So she's less than thrilled when her father decides to send her to a boarding school in Paris for her senior year.
But despite not speaking a word of French, Anna meets some cool new people, including the handsome Étienne St. Clair, who quickly becomes her best friend. Unfortunately, he's taken —and Anna might be, too. Will a year of romantic near misses end with the French kiss she's waiting for?
Publisher: Speak
Publish date: July 16, 2013 (original: December 2, 2010)
Page #: 372
Edition: Paperback, Alternate Cover, USA
***********************************************************************
I have seen this book around since its release. I've always intended to read it, and I couldn't ever get myself to do it. It has stayed popular since it's original release in 2010, and even got a gorgeous new cover with the release of Isla and the Happily Ever After. I mean look at that design! Props to whoever designed it because all three books are gorgeous and complement each other really well. Bookstagram loves photos of the trio.
Anyway, the lovely girls who I co-moderate our book club book suggested a reread since I hadn't read it yet. Now I finally understand the hype!
In one word it's cute. I definitely needed this after the soul-crushing ending of The Memory Book by Lara Avery. (Here's the link to my review of that one.) I couldn't wait to see if Anna would truly live up to what people say about it. I was looking at the ratings and reviews of some of my friends and most of them were 5 star ratings.
Anna has one of the best names that I've heard in a while. I like how creative Perkins got with her and Bridgette's names. Anna's move to Paris and her adjustment to new surroundings clicked with me immediately. I recently had to leave my parents for the first time, and I know exactly the feeling of being so alone. 
While being sent to Paris for school isn't something many people would complain about, I know why Anna does. She doesn't want to go, and she has no choice but to do what her father wants. I can't believe what it would be like if I had to change my entire lifestyle for one year, senior year. It's such an integral part of people's lives, and she does it in a foreign country without anyone there with her. Perkin's captures those feelings really well, and I really liked that element of the story.
Anna really lucked out in the floor neighbor deal. Meredith is a wonderful girl, and I loved her immediately. She and her group of friends are very accepting of Anna, and I feel like if Mer hadn't reached out that first day the story would be completely different. They make me wish I had a squad like them!
I had a bad feeling when Anna went back home after spending so many months away from America. The whole thing smelled of a cliche. I wish things had ended better between Anna and Bridgette.
ETIENNE!!!!!!!! *le sigh* I know why so many people love him because I love him too. One thing that bothered me about him was how he led Anna on for so long. Grow a pair man!! This added angst to the story was very teenager-y. It wasn't bad and definitely served a purpose to the story.
As much of a love story this is, I like how Anna finds herself in the whole mess of things. I can't wait to see what comes of her in the two other books. I know they're stand-alones, but I know that the characters have cameos in each other's books.
Okay I'm going to wrap this up because I now realize how long my review has gotten. I just had a lot to say!! Have you read Anna and the French Kiss? What did you think
Happy reading,
Sophie 🙂