Hey guys! I read this last month because I love Uncle Rick and Percy. They are my (guilty) pleasure. Honestly, I don't even feel sorry for reading him still.
Here's what the book is about:
How do you punish an immortal?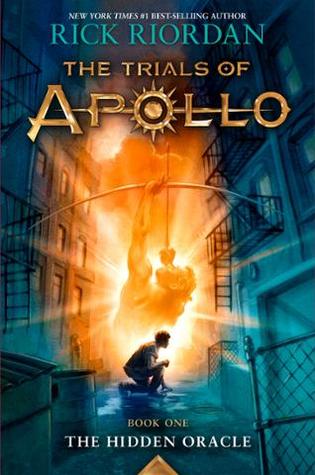 By making him human.
After angering his father Zeus, the god Apollo is cast down from Olympus. Weak and disorientated, he lands in New York City as a regular teenage boy. Now, without his godly powers, the four-thousand-year-old deity must learn to survive in the modern world until he can somehow find a way to regain Zeus's favour.
But Apollo has many enemies – gods, monsters and mortals who would love to see the former Olympian permanently destroyed. Apollo needs help, and he can think of only one place to go . . . an enclave of modern demigods known as Camp Half-Blood.
Publisher: Disney-Hyperion
Publish date: May 3, 2016
Page #: 376
_________________________________________________________________
Apollo's sass is 10/10 would laugh again. I found myself laughing out loud in the middle of class on accident. Ya know, some people just don't get it!
A classic Rick Riordan tale. I really don't know how he does it. I love how he creates these worlds, well in this case he build upon one. Percy does make two appearances in this. It's nice to see my favorite demigod back in the mix.
Meg is a sweet character. I like her through the entire book, and I have high hopes for her character in the next book. Peaches her peach spirit was awesome too!!!!
I liked seeing the demigods through a god's eyes. It's a unique perspective I would not have thought of. Apollo meets his children for the first time and it's a whacky dynamic. What would you do if you met your children as a 17 year old? Some of his thoughts are totally normal (and not so normal), but they make a lot of sense.
If I were Apollo I would be mad my dad cast me off Olympus too. Apollo also doesn't have all of his godly powers or memories. That would be extremely disorienting, but it's fun to watch him adjust to the mortal world. I'm curious to know what would happen if he were to be mortally injured and was dying. Would he die? He's a god but his essence is in a human body.
Needless to say, I'm really excited for the next book to come out! Percy Jackson forever 🙂 ❤❤❤😍
Happy reading!
Sophie 🙂