Hi! I hope you're all doing well 🙂 Today's review is of the June Book Junkies book A Court of Thorns and Roses. If you're a Sarah J. Maas fan you may have already read this. We decided that we wanted to see what the hype was about and finally jumped in the SJM wagon.
Here's what the book is about: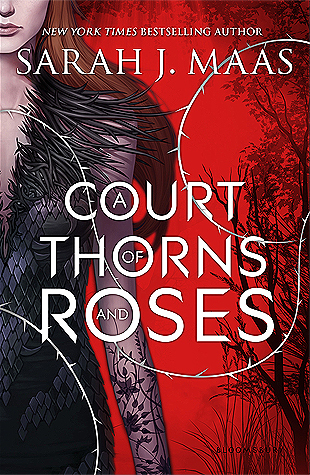 A thrilling, seductive new series from New York Timesbestselling author Sarah J. Maas, blending Beauty and the Beastwith faerie lore.
When nineteen-year-old huntress Feyre kills a wolf in the woods, a beast-like creature arrives to demand retribution for it. Dragged to a treacherous magical land she only knows about from legends, Feyre discovers that her captor is not an animal, but Tamlin—one of the lethal, immortal faeries who once ruled their world.
As she dwells on his estate, her feelings for Tamlin transform from icy hostility into a fiery passion that burns through every lie and warning she's been told about the beautiful, dangerous world of the Fae. But an ancient, wicked shadow grows over the faerie lands, and Feyre must find a way to stop it… or doom Tamlin—and his world—forever.
Perfect for fans of Kristin Cashore and George R. R. Martin, this first book in a sexy and action-packed new series is impossible to put down!
Publisher: Bloomsbury                             Edition: Hardcover, USA
Publish date: May 5, 2015                         Page #: 416
***********************************************************************
This was the first Sarah J. Maas book I've read. I never got into her Throne of Glass series, and I don't think I'll read it after this one. Not that her writing is bad! I liked it, but I am not in love with it like other people.
This takes Beauty and the Beast and makes something much more magical out of the story line. I kept trying to look specifically for those references, but I like how she wrote it specifically. She made Beauty and the Beast and underlying thing, so it was a thing, but it wasn't the thing.
Feyre is a character that is… thorny at the beginning, but she grows on you. Like a fungus. I ended up liking the abrasiveness of her character and the way she always stood up for what she believed in. I like the way her character develops over the story (and I like her even more in ACOMAF). One thing that did bother me about her was her blind devotion. I wish she was brave enough to ask the tough questions to Tamlin.
TAMLIN!!! Okay I love(d) Tam in this book! He's so sweet and caring! At first. He's the dashing High Lord you're supposed to fall in love with, but then stuff goes down, and I don't like the way he reacts to it. Or lack thereof. He does nothing to help Feyre, and he's too much of a coward to really do anything beyond making empty promises.
Lucien is a character that I liked almost immediately. I love his sass and wit. The way he treats Feyre reminds me of a big brother or even a best guy friend. I love the way he always is trying to help Feyre, and treats her like she can hold her own. I do wish he wasn't as bound to Tamlin as he is though.
The overall plot is so enrapturing! It sucks you in, albeit not right away, but once you really get started you can't put the book down. It ends a way I totally didn't expect. The events that transpire right toward the end made me gasp, and I could hardly tear my eyes away. It was AMAZING AND TERRIFYING, yet I found it extremely interesting all the same. I expected more of a cliff hanger since I knew there was a sequel. I thought it was a good ending if it just ended right where it did, but it does leave many loose ends which I'm very glad ACOMAF ties up.
That's all I've got for now folks! Happy reading!
Sophie 🙂