Hi guys! I read this back in July, and although I didn't like it as much as Anna it was still pretty good.
Here's what Lola is about:
Lola Nolan is a budding costume designer, and for her, the more outrageous, sparkly, and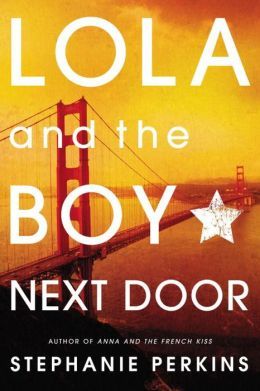 fun the outfit, the better. And everything is pretty perfect in her life (right down to her hot rocker boyfriend) until the Bell twins, Calliope and Cricket, return to the neighborhood. When Cricket, a gifted inventor, steps out from his twin sister's shadow and back into Lola's life, she must finally reconcile a lifetime of feelings for the boy next door.
Publisher: Speak
Release date: August 2014 (originally published 29 September 2011)
Edition: Paperback, USA, Alternate cover
Page #: 338
Genre: Contemporary, Romance
My rating: 4/5 stars
***********************************************************************
To sum up the story in one word it would be sweet. I like Lola and her quirkiness, and I love Cricket Bell. This is a cute character driven book, and I love how it quietly continues Anna's story as well.
Lola has dads, and I thought to myself – wow, Stephanie Perkins was way ahead of the game back then, and I appreciate it. It's not a huge element of the book. This isn't a story about a girl who has to deal with having two dads. This is a story about a girl who is trying to figure out who she is through costume. The more I sit on my thoughts about Lola the more I appreciate her. She is unapologetically herself, and it takes a lot to do that.
One thing that bugged me most about Lola was how small-minded she was at times, especially when it came to Max. (Max is gross.) She was so quick to assume things and it would have been much easier for everyone if she wasn't so set on staying with Max.
I love Lola's dads!! They are the most supportive, strict parents and it's incredible. Again Perkins doesn't play into stereotypes where it would be easy to. Their sexuality is part of the book but it isn't the focus of the book, and I appreciate that. I like how they balance each other out too. They're the real OTP.
The relationship between Cricket and Lola is an interesting one. I love the idea of having someone who has known you forever and falling in love with them. Classic boy-next-door trope, and a bonus that you don't usually have to explain your embarrassing moments to them. But hey that's not everything. I like how weird Cricket is. He's an awkward child, and he's still trying to figure out who he is too. I like how they develop over the story.
Okay that's all for now folks, happy reading,
Sophie 🙂