There are so many next-books-in-a-series coming out and this is one I've been looking forward to since I finish A Study in Charlotte last March. Here I'll be discussing the sequel The Last of August which was released on Valentine's day. THERE WILL BE MILD SPOILERS FOR A STUDY IN CHARLOTTE SO PLEASE PROCEED WITH CAUTION IF YOU DON'T WANT TO BE SPOILED. You can find my review of A Study in Charlotte and a discussion on it here. Thank you to Justine Magazine for sending me an advance copy!
Things you might want to know about the book: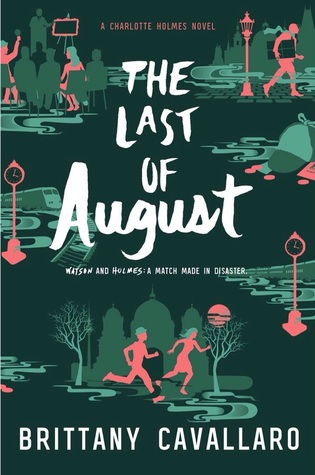 In the second brilliant, action-packed book in the Charlotte Holmes trilogy, Jamie and Charlotte are in a chase across Europe to untangle a web of shocking truths about the Holmes and Moriarty families.
Jamie Watson and Charlotte Holmes are looking for a winter break reprieve in Sussex after a fall semester that almost got them killed. But nothing about their time off is proving simple, including Holmes and Watson's growing feelings for each other. When Charlotte's beloved uncle Leander goes missing from the Holmes estate—after being oddly private about his latest assignment in a German art forgery ring—the game is afoot once again, and Charlotte throws herself into a search for answers.
So begins a dangerous race through the gritty underground scene in Berlin and glittering art houses in Prague, where Holmes and Watson discover that this complicated case might change everything they know about their families, themselves, and each other.
Publisher: Katherine Tegen Books
Release date: 14 February 2017
Page #: 336
Edition: Hardcover, US
My rating: 5/5 stars
******************************************************
This novel picks up right where you get left off in A Study in Charlotte. Since it's been almost a year since I've read the first book a few of the details were a bit hazy. I loved refamiliarizing myself with all the characters and getting to know the new ones too.
Charlotte Holmes is a fantastic character all around. She is prickly and calculating but that doesn't make her less. If anything it makes her more. More human, more real. She continues to struggle with the sexual assault that she experienced, and throughout the book it remains a prominent part of her character's troubles. (I don't mean this in a dismissive way, sexual assault/violence is something you don't simply "get over.") Although this is something that continually gets in the way for her and her attraction to Jamie, it's something I appreciate reading about. It adds dimensions to her character that I have longed to see in female characters. It speaks volumes to her overall strength as a woman.
The book is told mostly from Jamie's perspective (of course, why wouldn't Watson be telling the story, honestly). There are a few parts that Charlotte tells, but it's mostly told from his point of view. I enjoy Jamie as a character. There are developments to his character that I found to be wonderful. He both knows how to be friends with and handle Charlotte, but on the flip side it seems like he's shooting in the dark. He knows that she can handle herself, but his loyalty and caring spirit win out and he always is looking after her.
Their friendship dynamic is a weird one. It's caught in between just friends and something more, and I don't mind that it isn't defined. I can't wait to see how it plays out in the third (and final) book though. Something tells me the ambiguity will go away and something will establish itself one way or another. Or it could end ambiguously. At this point, they're so mercurial I don't know what to predict.
The overall plot line was interesting. I like how there were multiple parts interwoven. I didn't know which one to keep my eye on and when you would forget one it would come back in curious ways. August Moriarty comes into play in this novel, and I grew fond of his character. Though Jamie (very much) dislikes him, I liked reading about a third character upsetting the balance of the Holmes/Watson duo.
Happy reading,
Sophie 🙂