Hi guys! I haven't blogged in a while, and I apologize, but I'm back here with none other than a review! I read this back in February and I absolutely loved it. My friends kept bugging me to read it, and I finally got around to it.
Here are some details about the book:
Natasha: I'm a girl who believes in science and facts. Not fate. Not destiny. Or dreams that will never come true. I'm definitely not the kind of girl who meets a cute boy on a crowded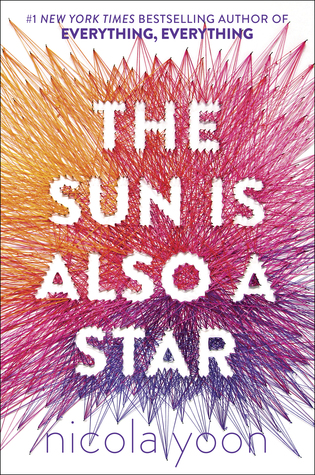 New York City street and falls in love with him. Not when my family is twelve hours away from being deported to Jamaica. Falling in love with him won't be my story.
Daniel: I've always been the good son, the good student, living up to my parents' high expectations. Never the poet. Or the dreamer. But when I see her, I forget about all that. Something about Natasha makes me think that fate has something much more extraordinary in store—for both of us.
The Universe: Every moment in our lives has brought us to this single moment. A million futures lie before us. Which one will come true?
Publisher: Delacorte Press
Release date: 1 November 2016
Edition: Hardcover, US                                                My rating: 5/5 stars
Page #: 348
*********************************************************
AHHHHHHH THIS BOOK! Here are some of my initial thoughts right after I finished the book. These were originally published on my Goodreads account.
20 Feb 17— 8 BILLION STARS TO THIS WONDERFUL BOOK. WHO NEEDS SLEEP WHEN YOU HAVE THIS BOOK TO KEEP YOU COMPANY WHILE EVERYONE ELSE SLUMBERS?! I CANNOT GET OVER THE PERFECTION OF THIS BOOK.
Really. People. Pick up this book right now and start reading. It will change your life. I finished it about 2 minutes ago, and I can't stop loving it. I know I say this about a lot of books – a lot of books I read touch my life in different ways and this one exploded in a kaleidoscope of beauty. The multiple perspectives, the small insights into each characters' lives – gorgeous. If I had the energy I would be sobbing right now.
___________________
10 Mar 17
After sitting on my feelings for this book for a while I really find that I still love it as much as I did after finishing it. It was interesting to see the different ways that Yoon would tell the story.
There are varying perspectives, but most of the book rests on the shoulders of Daniel and Natasha. There are some thoughts from Natasha's mom, Daniel's father, and other characters that add small but wonderful details. One of my favorite parts of this book is how fabulous it is put together through these.
The romance in this book is a love-at-first-sight deal. I don't quite buy into the idea, but it occurred so genuinely within this book that I couldn't help but love as quickly and as deeply as these characters in this book. I was curious to see how the romance would unfold, especially with the situation that both characters are put into.
Another theme that is present throughout the book is fate/destiny versus free will. A lot of the way Daniel acts is on a whim and seemingly through his own volition. In direct opposition to that, Natasha believes in soft determinism – that one choice causes a chain reaction of other occurrences that follow. It's exciting to see these ideas play out and interact with each other through the characters.
The diversity in this book is fantastic. It's not directly autobiographical, but you can tell through the details that Yoon's life as a Jamaican-American and her relationship with her Korean-American husband has a profound influence on this book. I love the intricate details and historical blurbs that are found within this book. It goes back and explains some of the history of things you never thought about (i.e. the history of African-American hair).
Overall, a wonderful book. Highly recommended if you're in a contemplative mood or are looking to fall in love.
Happy reading,
Sophie 🙂