Hi guys & happy (belated) Easter (if you celebrate it, my family does). I'm here today to celebrate the recent release of this awesome novel by Melissa de La Cruz  Alex & Eliza. 
What you want to know about the book:
1777. Albany, New York.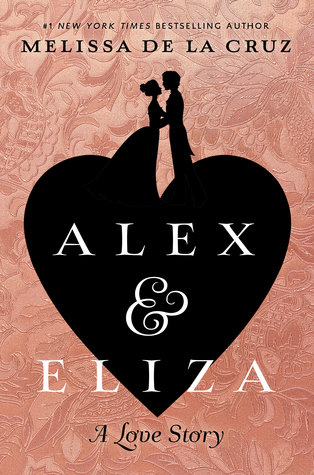 As battle cries of the American Revolution echo in the distance, servants flutter about preparing for one of New York society's biggest events: the Schuylers' grand ball. Descended from two of the oldest and most distinguished bloodlines in New York, the Schuylers are proud to be one of their fledgling country's founding families, and even prouder still of their three daughters—Angelica, with her razor-sharp wit; Peggy, with her dazzling looks; and Eliza, whose beauty and charm rival that of both her sisters, though she'd rather be aiding the colonists' cause than dressing up for some silly ball.
Still, she can barely contain her excitement when she hears of the arrival of one Alexander Hamilton, a mysterious, rakish young colonel and General George Washington's right-hand man. Though Alex has arrived as the bearer of bad news for the Schuylers, he can't believe his luck—as an orphan, and a bastard one at that—to be in such esteemed company. And when Alex and Eliza meet that fateful night, so begins an epic love story that would forever change the course of American history.
In the pages of Alex and Eliza, #1 New York Times bestselling author Melissa de la Cruz brings to life the romance of young Alexander Hamilton and Elizabeth Schuyler.
Publisher: Putnam                          My rating: 4/5 stars
Release Date: 11 April 2017          Source: Penguin RandomHouse
*************************************
Here are some initial thoughts when I finished the book:
I was enamored with this book! It was sweet and lovely. I love Eliza and her sisters – they seem to really pop off the page and become the women I would have wanted to be friends with. Eliza is like a real-life Lizzie Bennett – spunky, spirited, and quick-witted. She quickly became one of the women I love in literature. I definitely need to do more research on her!
I completely agree with my original self! It was a sweet read all around and I really enjoyed myself when I read it. Eliza was super fun to read and I love the voice that de La Cruz gave her. She is the woman I would have wanted to be if I had been alive during the Revolution. Throughout the book she becomes less of a woman in history (lesser known, too) to someone who is living and breathing within the pages. I love the life that de La Cruz has given her.
I haven't jumped on the Hamilton craze yet. I know, I know, it's pretty much blasphemy these days to say that but I haven't had time to seek out the music. That being said, I really love how this illustrates history. I'm a big history junkie and this was right up my alley.
This reminded me of a colonial version of Pride and Prejudice. The banter between the main characters and the general voices of the characters really carried that vibe. I like to think that Darcy is a hopeless romantic at heart, so it was fun to see Alex's side of the story as well as Eliza's.
**********************
Because I loved this book so much I'm giving away a hardcover copy! It's US only (sorry guys, shipping isn't cheap!). It ends on the 22nd (1 week from today). Just click the Rafflecopter link below!
Happy reading,
Sophie 🙂