Hey there! I'm here with a review of this beautiful book! I didn't know it was set in Australia when I started it so I was slightly confused when Rachel, the main character, started using slang I didn't recognize 😉 This is one that you definitely want to pick up this summer! Massive thanks to Justine for supplying me with a copy!
Title: Words in Deep Blue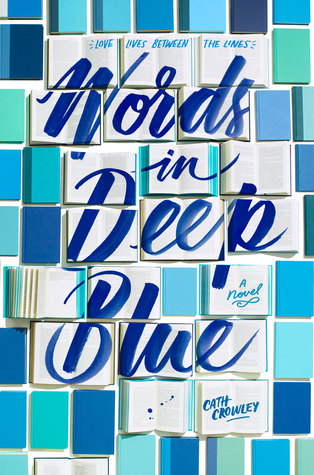 Author: Cath Crowley
Publisher: Alfred A. Knopf Books for Young Readers
Release Date: June 6, 2017
Source: Advance Reader's Copy
Love lives between the lines.
Years ago, Rachel had a crush on Henry Jones. The day before she moved away, she tucked a love letter into his favorite book in his family's bookshop. She waited. But Henry never came.
Now Rachel has returned to the city—and to the bookshop—to work alongside the boy she'd rather not see, if at all possible, for the rest of her life. But Rachel needs the distraction, and the escape. Her brother drowned months ago, and she can't feel anything anymore. She can't see her future.
Henry's future isn't looking too promising, either. His girlfriend dumped him. The bookstore is slipping away. And his family is breaking apart.
As Henry and Rachel work side by side—surrounded by books, watching love stories unfold, exchanging letters between the pages—they find hope in each other. Because life may be uncontrollable, even unbearable sometimes. But it's possible that words, and love, and second chances are enough.
********************************
So I previously spewed a lot of my thoughts initially into my Goodreads review —
THIS BOOK. I LOVE THIS BOOK SO MUCH. There is so much beauty and love in this book that I can't wait for everyone else to read it when it's released. It articulates my love for words and books in ways that made me so happy. It's a story about love and loss and who you become when you lose someone you love. It's gorgeous, and I HIGHLY recommend you get your hands on this when it comes out this June!!
Even though it's way past June, you need to read it right now. I absolutely devoured it in a matter of a few days. I had school, homework, and work to contend with my time, but took up any remaining time I had to read it. The book was absolutely gorgeous and I can't believe I got to read it early.
This book is like every book lover's dream. One of the main characters, Henry, lives above a bookstore that his family owns. So he gets to work with the books every. Day. One part I LOVED about their store was the Letter Library – or the concept of a letter library. This is a section of the store where there are several copies of books where customers get to browse and leave their notes in the margins or letters to people. AND MY HEART. I'm stealing this idea for when I open up my bookstore with my best friend Ana. (THANKS CATH CROWLEY!!)
The characters of this book are so lovely. They're well-developed up until the last page, and I love the way you can get inside their heads. (Not only because it's first-person narration, but because of the way they feel.) I like how Crowley lets us take a peek inside their brains for a while, and I wish I could meet them IRL. (I don't think this is the first time I want to be friends with book characters outside of their world…)
I don't remember having any qualms about this book. It was so amazing I recommended it in Justine Magazine's June/July edition. Seriously guys, why are you still reading this review? Go read this book 🙂
Happy reading,
Sophie 🙂