Hi there! I read this book a while back and I *finally* figured it was time for me to actually get a move on reviewing all of the books I've read so far this year (almost over 50, nbd). So here is the first in a *really* long line.
Title: We Are Okay
Author: Nina LaCour
Publisher: Dutton Books for Young Readers
Release Date: February 14, 2017
Source: Hardcover, US
You go through life thinking there's so much you need…
Until you leave with only your phone, your wallet, and a picture of your mother.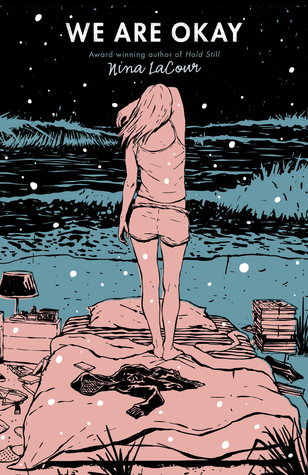 Marin hasn't spoken to anyone from her old life since the day she left everything behind. No one knows the truth about those final weeks. Not even her best friend, Mabel. But even thousands of miles away from the California coast, at college in New York, Marin still feels the pull of the life and tragedy she's tried to outrun. Now, months later, alone in an emptied dorm for winter break, Marin waits. Mabel is coming to visit, and Marin will be forced to face everything that's been left unsaid and finally confront the loneliness that has made a home in her heart.
*******************************************************
I remember when I was finishing this book I drove early to work so I could sit in the parking lot to finish it. I needed to know what happened in the end!
First off, the character development is amazing. I loved getting to know Marin and Mabel throughout the story. The way Marin talked about her grandpa was lovely, too, and I enjoyed their relationship together. There are a few big twists that are really laid out well with the characters throughout the story. I feel like I should have seen it coming because some of the hints are so obvious after the fact. Yet, I loved finding it out when LaCour intended us to.
The story itself is haunting. I love how beautifully the story is told and how LaCour sets up little traps and turns for the reader to go down and fall into. It's lyrical in a sense and I think that added to the work as a whole. I can't believe I haven't read anything by her before and I can't wait for more.
The ending of the story was sweet and hopeful, which I think is the best way a book can end, especially with the bombs that were dropped right before that. I think the best part was the ending and the sense of closure that the characters got. I semi-hope there's a sequel, but I'm happy with the way it is right now.
Happy reading,
Sophie 🙂