Hi guys! Here is another book I read a while back that I'm FINALLY getting around to reviewing. I know I won't have a lot of time for this in college, so I'm getting them done while I can!
Title: Caraval
Author: Stephanie Garber
Publisher: Flatiron Books
Release Date: January 31, 2017
Source: Hardcover, US
Whatever you've heard about Caraval, it doesn't compare to the reality. It's more than just a game or a performance. It's the closest you'll ever find to magic in this world . . .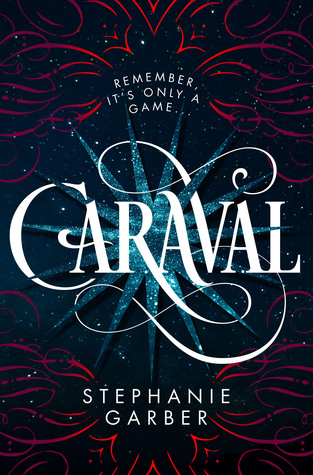 Welcome, welcome to Caraval―Stephanie Garber's sweeping tale of two sisters who escape their ruthless father when they enter the dangerous intrigue of a legendary game.
Scarlett has never left the tiny island where she and her beloved sister, Tella, live with their powerful, and cruel, father. Now Scarlett's father has arranged a marriage for her, and Scarlett thinks her dreams of seeing Caraval, the far-away, once-a-year performance where the audience participates in the show, are over.
But this year, Scarlett's long-dreamt of invitation finally arrives. With the help of a mysterious sailor, Tella whisks Scarlett away to the show. Only, as soon as they arrive, Tella is kidnapped by Caraval's mastermind organizer, Legend. It turns out that this season's Caraval revolves around Tella, and whoever finds her first is the winner.
Scarlett has been told that everything that happens during Caraval is only an elaborate performance. But she nevertheless becomes enmeshed in a game of love, heartbreak, and magic with the other players in the game. And whether Caraval is real or not, she must find Tella before the five nights of the game are over, a dangerous domino effect of consequences is set off, and her sister disappears forever.
*******************************************************
THIS BOOK KIND OF BROKE MY FEELS FOR A LITTLE BIT.
I read this on a bus to Chicago on a field trip and I finished it, and I NEEDED emotional support for it right away. Unfortunately I wasn't with ANYONE who had read it yet so I had to turn to Twitter for that. I absolutely loved the world building in this book! The magic within felt so intoxicating that I couldn't get enough. I WANT MORE. RIGHT NOW. PLEASE.
Scarlett and Tella have an interesting relationship throughout the novel. Both go out of their way to save each other and they get in each other's way in doing so, and the result is a bit hilarious. I wish I got to know more about Tella in this book, but (hoping there is a second book) I have my wishes that I'll get to know her more later on.
I know a lot of people compare this book to Night Circus, and while there are some elements that are similar, there is a lot more to this book than just that. I always (try) go into a book with an open mind because I feel like if I were to always compare it to the comp books it would skew my view of it as a work in and of itself. I think this book is good for people who like that kind of book, but don't expect an entirely new Night Circus.
Happy reading,
Sophie 🙂