Hey there! I'm here to celebrate the release of Lauren Miller's latest book – All Things New. I was sent an early copy of this book, and I cannot wait to share it with  you all 🙂
Title: All Things New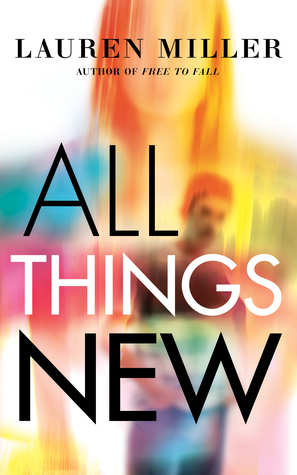 Author: Lauren Miller
Release Date: August 1, 2017
Publisher: Three Saints Press
Synopsis: Jessa has always felt broken inside, but she's gotten very good at hiding it. No one at school knows about the panic attacks, the therapy that didn't help, the meds that haven't worked. But when a severe accident leaves her with a brain injury and visible scars, Jessa's efforts to convince the world that she's okay finally crumble—now she looks as shattered as she feels.
Fleeing from her old life in Los Angeles, Jessa moves to Colorado to live with her dad, where she meets Marshall, a boy whose kindness and generous heart slowly draw Jessa out of her walled-off shell and into the broken, beautiful, real world—a place where souls get hurt just as badly as bodies, and we all need each other to heal.
ALL THINGS NEW is a love story about perception and truth, physical and emotional pain, and the messy, complicated people we are behind the masks we put on for the world, perfect for fans of ALL THE BRIGHT PLACES and THE FAULT IN OUR STARS.
************************************************
REVIEW
I really enjoyed this book! I wasn't sure what to think at first and I was a bit apprehensive. However, as I continued to read I really started to enjoy it, and I couldn't put it down.
Overall the plot was well done. I enjoyed the small twists and turns that Miller took us on through Jessa's journey. Jessa's voice is clear and (I imagine) an accurate representation of anxiety. (The author writes from personal experience, and while I recognize this isn't everyone's experience, this is hers and it's real, so there is truth to her story.) I really enjoyed reading her story and getting to know her quirks.
The other characters were fun to read about, too. I wish there was *a little* confrontation between Jessa and her ex-boyfriend, but I understand that probably would take away from focusing on Jessa. I liked the interaction of the group overall. Marshall is sweet and lets Jessa breathe. Hannah is a true friend to Jessa. The whole dynamic of their trio is fun and I wish I got to hang out with them!
There is an element of magical realism within the book – Jessa's aphantasia as well as seeing scars/burns on people. Originally the doctors chalk it up to aphantasia, which is losing your mind's eye or ability to visualize things in your head. However, as she recovers, Jessa discovers that the scars remain on others. I liked the idea of seeing visual representations of the hurt that people feel and are going through. It helped Jessa a lot in seeing that though her pain is very much visible, there are so many things that people don't talk about that they're experiencing.
Overall, I really liked this book. I remember the day I finished it I was late to hanging out with my friends because I *had* to finish it! 🙂 Oh, there also are some spoilers for The Picture of Dorian Gray in there, but I loved how it was intertwined with the story!
*******************************************
GIVEAWAY
This giveaway will run from today until August 8 (8/8) at midnight. The rules are as follows:
-US and Canada residents only
-Must be 18 years or older or have parental permission
HERE'S THE LINK a Rafflecopter giveaway
Good luck and may the odds be ever in your favor.
Happy reading,
Sophie 🙂