Hi, guys!! I read this way back in February, but to this day I still love it so much. Maybe this calls for a re-read… Anywho, I cannot wait to finally write my thoughts down about this book. MY HEART WAS JUST A LITTLE BIT BROKEN AFTER IT NO BIG DEAL HAHAHAHA *tear*
Title: Seven Days of You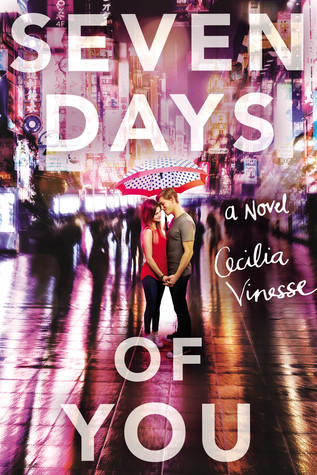 Author: Cecilia Vinesse
Publisher: Little, Brown Books for Young Readers
Release date: March 7, 2017
Sophia has seven days left in Tokyo before she moves back to the States. Seven days to say good-bye to the electric city, her wild best friend, and the boy she's harbored a semi-secret crush on for years. Seven perfect days…until Jamie Foster-Collins moves back to Japan and ruins everything.
Jamie and Sophia have a history of heartbreak, and the last thing Sophia wants is for him to steal her leaving thunder with his stupid arriving thunder. Yet as the week counts down, the relationships she thought were stable begin to explode around her. And Jamie is the one who helps her pick up the pieces. Sophia is forced to admit she may have misjudged Jamie, but can their seven short days of Tokyo adventures end in anything but good-bye?
**************************************
I had a lot of feelings about this book when I finished it — and when I was reading it. Here are some things I said on my Goodreads account:
WHAT IS THIS LIFE?!?!? THIS BOOK. I'M CRYING RIGHT NOW OH MY GOD.

Okay, well this is a beautiful story about beginnings and endings and everything that comes with both. It's lovely to see everything play out (even though it's ripping me apart right now) and I can't help but feel the bittersweetness of the entire situation. More thoughts to come with a full review!
So maybe some tears were shed. Just because I get really invested in characters doesn't mean it's a bad thing! It was poignant and fresh and I loved the setting!
Maybe it's because her name was Sophia, but I loved her. I could picture her in Tokyo savoring her last few days there, and dragging her feet to leave. I couldn't imagine that kind of move. I moved houses within the same city and that was hard.
The characters are what made this book amazing for me. I loved their development and their quirkiness. Mika was hilarious and the *perfect* (but flawed) best friend. David was the brooding-but-lovable guy friend. Honestly, their trio reminded me of my trio of friends I had at the time. When Jamie enters the scene, it was fun to see their dynamic change and shift around him. They seem like great people to be friends with overall.
I wish I had more details that helped me get around Tokyo a bit better. A map on the end pages would have been so fun! I did like the small details that Vinesse added about it, but there could have been a few more to make it more immersive.
I really wanted to finish this book, but also I wanted more than seven days. I wanted a year. Or more. Really, anything more that Cecilia would give me I would read. I want to know what happens after. PLEASE TELL ME THERE'S A COMPANION NOVEL OR SEQUEL IN THE WORKS I'M DYING OVER HERE.
I also got to meet this lovely creator of the novel and do an interview for Justine Magazine. Here is the link to our chat!
Happy reading,
Sophie 🙂