Welcome back to my blog 🙂 Or welcome to it if this is your first visit! So glad to have you here with us today. I'll be reviewing this AMAZING book today by Laini Taylor. This is her latest novel and the first in a new duology (?). (I'm not 100% sure the length of this series but I believe it's just two books long. But I could be wrong. I've been wrong before.)
Title: Strange the Dreamer
Author: Laini Taylor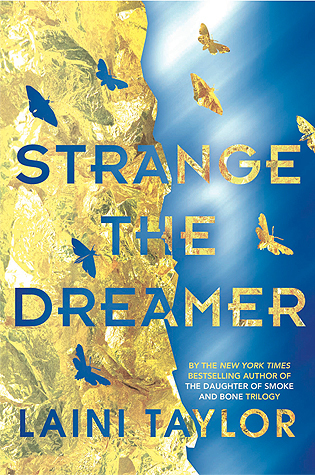 Publisher: Little, Brown Books for Young Readers
Release date: March 28, 2017
Source: Advance Reader's Copy
The dream chooses the dreamer, not the other way around—and Lazlo Strange, war orphan and junior librarian, has always feared that his dream chose poorly. Since he was five years old he's been obsessed with the mythic lost city of Weep, but it would take someone bolder than he to cross half the world in search of it. Then a stunning opportunity presents itself, in the person of a hero called the Godslayer and a band of legendary warriors, and he has to seize his chance or lose his dream forever.
What happened in Weep two hundred years ago to cut it off from the rest of the world? What exactly did the Godslayer slay that went by the name of god? And what is the mysterious problem he now seeks help in solving?
The answers await in Weep, but so do more mysteries—including the blue-skinned goddess who appears in Lazlo's dreams. How did he dream her before he knew she existed? And if all the gods are dead, why does she seem so real?
Welcome to Weep.
*********************************************
I absolutely fell in head-over-heels, talk-about-it-all-the-time, all-consuming love for this book when I finally picked it up for a read. I need to re-read this one too… Maybe when I'm broke and in college and want to fool myself into not buying another book…
ANYWAY! I have to preface this by saying that I've never read any of Taylor's works prior to this book. I have always wanted to read the Daughter of Smoke and Bone trilogy, but I haven't gotten around to it. I know they're really great (or so I'm told) so I can't say that I wouldn't be interested in reading them.
Get ready for an absolute thrill ride through a fantastic new world. This world is constructed so beautifully and I'm amazed at it. Some of the best parts of the book were the small little details that were included, like the scent of the city of Weep or the deep colors that surrounded Lazlo and his journey.
I had a *few* things to say about this on Goodreads already so here they are:
AHHHHHH THIS BOOK! I STAYED UP PRETTY DANG LATE TO FNISH THIS AND I FEEL LIKE I SHOULD HAVE SEEN THE ENDING COMING! It's not like Taylor doesn't open with the fact that some one dies but the whole time I was in denial (maybe) that it was who I thought it was. This was a fantastic world built, and I loved being part of it every minute. I can't wait for you guys to read this Tuesday! Make sure to pick up a copy!
This world is rich and the characters are riveting. I could not be more in love with this book. I like the perspective it's written at, too. The narrator has full view into the minds of all of the characters and I love seeing all of their thoughts and the world through their eyes.
Sarai is one of my favorite characters, but I loved Minya even though she's a tough one to handle after what happens. SHE IS A SMOL PRECIOUS CINNAMON ROLL OKAY? Truly fabulous characters all around though. I couldn't get enough of all of them. I Tweeted about them whilst I was reading (honestly, I would find them for you but they're under piles and piles of other Tweets).
I had the amazing opportunity to go to her signing in LaGrange and play a quick round of 5 Quick Questions with her for Justine Magazine. Click this link to read it!