Hello hello! Today I'll be reviewing a book that was released a few years ago and felt was worth talking about again, especially since the sequel will come out some time soon!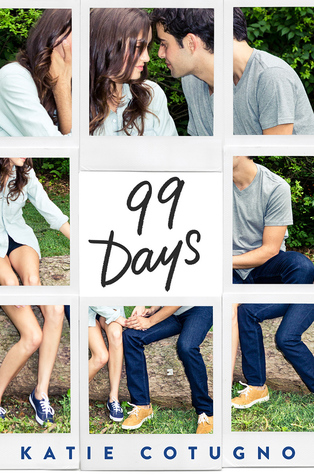 Title: 99 Days
Author: Katie Cotugno
Publisher: Balzer + Bray
Release Date: April 21, 2015
Source: Hardcover, US
Day 1: Julia Donnelly eggs my house my first night back in Star Lake, and that's how I know everyone still remembers everything—how I destroyed my relationship with Patrick the night everything happened with his brother, Gabe. How I wrecked their whole family. Now I'm serving out my summer like a jail sentence: Just ninety-nine days till I can leave for college, and be done.
Day 4: A nasty note on my windshield makes it clear Julia isn't finished. I'm expecting a fight when someone taps me on the shoulder, but it's just Gabe, home from college and actually happy to see me. "For what it's worth, Molly Barlow," he says, "I'm really glad you're back."
Day 12: Gabe got me to come to this party, and I'm actually having fun. I think he's about to kiss me—and that's when I see Patrick. My Patrick, who's supposed to be clear across the country. My Patrick, who's never going to forgive me.
*****************************************
I read this one pretty darn fast. So fast that I didn't even add it to my Goodreads until I had finished it. It was a quick, light read with dynamic characters that I enjoyed.
Here's what I originally thought:
Do you like unlikable female characters? Definitely read this book if you do! I mean that in the most sincere and serious way possible. I've had enough of unlikable male characters still being forgiven for the bad things they do and not the female ones. It's a double standard that I don't want to participate in anymore. I'm not saying that what Molly does in this book is right, I'm saying that she's flawed and more real because of it. I like the way this book ends, but more thoughts to come in a review!
Molly Barlow is quite unlikeable. She's self-pitying, annoying at times, a bit of a player, HOWEVER (and this is a very large however) she was a character who grew and developed. I always say that if the character isn't flawed then there is no conflict which results in no story. Since reading Bad Feminist by Roxane Gay, I have found myself more of an advocate for unlikeable female characters. In one of her essays, Gay points out how we are more forgiving of male characters who are unlikeable versus female ones. So long story short, I have become more aware of what kind of characters I like and dislike.
And I find that I both loved and hated Molly — but that's what I really enjoyed most about the book — her dynamic character. Obviously, Molly makes bad choices. Obviously, she has learned a lot and still has a lot more to go. I think that we all have a lot more to learn when we look at it. There are things that we don't know that we think we do, and there is so much room for improvement.
This one isn't for the faint of heart, those who just don't want to wrestle with their main character (which is totally cool!), but if you're up for the challenge this is the one.
Happy reading,
Sophie 🙂