Hello! I'm starting a new kind of review post for my ARC reviews, and voila — Sneak Peek Sunday. I won't be giving any sneak peeks, but I will be reviewing any ARCs that I have read. (Note: ARC = Advance Reader's Copy) To kick things off, I'm here with Gabby Dunn and Allison Raskin's anticipated book I Hate Everyone But You. 
Title: I Hate Everyone But You 
Authors: Gaby Dunn and Allison Raskin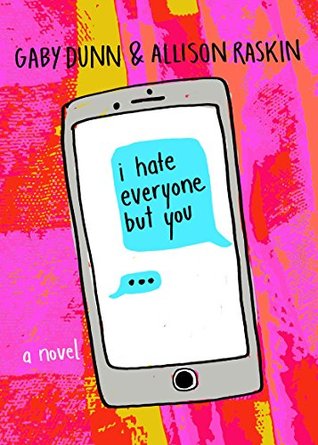 Publisher: Wednesday Books
Expected Release: September 5, 2017
Source: ARC
Dear Best Friend,
I can already tell that I will hate everyone but you.
Sincerely,
Ava Helmer
(that brunette who won't leave you alone)
We're still in the same room, you weirdo.
Stop crying.
G
So begins a series of texts and emails sent between two best friends, Ava and Gen, as they head off to their first semesters of college on opposite sides of the country. From first loves to weird roommates, heartbreak, self-discovery, coming out and mental health, the two best friends will document every moment to each other. But as each changes and grows into her new life, will their friendship be able to survive the distance?
******************************
Speaking as a rising college freshman, I think this encapsulates my feelings and anticipation of this coming year with my best friend the most. I think if we took screenshots of my conversations with her and compared them to these they would be pretty darn close.
Gen and Ava are two best friends that I would love to meet irl, and I can't wait for everyone else to meet them on the page. Their voices and different personalities compliment each other well. I found myself laughing along with them, and their adventures apart showed what it's like to grow with the same person.
I know I can't exactly speak from a lot of personal experience, but it's something that I will be able to relate to it even more. This is a quick, fun read that will get you back in the mood for the social scene of school days.
Happy reading,
Sophie 🙂