Hello! It's September, can you believe it? I am blown away by how fast this year has gone. This time last year I was starting my final year of high school (and a bunch of college applications), but now I'm starting my first year of college. Funny how things work like that. I even wrote about for Justine Magazine. You can read the full article here. Here today I'm throwing it back to high school with a great story about a guy about to graduate.
Title: Wildman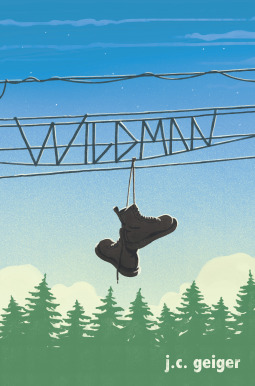 Author: J. C. Geiger
Publisher: Disney Hyperion
Release Date: June 6, 2017
Source: ARC
"How can a total stranger understand you better than the people you've known your entire life?"
When Lance's '93 Buick breaks down in the middle of nowhere, he tells himself Don't panic. After all, he's valedictorian of his class. First-chair trumpet player. Scholarship winner. Nothing can stop Lance Hendricks.
But the locals don't know that. They don't even know his name. Stuck in a small town, Lance could be anyone: a delinquent, a traveler, a maniac. One of the townies calls him Wildman, and a new world opens up.
He's ordering drinks at a roadhouse. Jumping a train. Talking to an intriguing older girl who is asking about his future. And what he really wants. As one day blurs into the next, Lance finds himself drifting farther from home and closer to a girl who makes him feel a way he's never felt before—like himself.
**********************************
Here's what I first thought after reading it:
This was a super fun read! I couldn't put it down. I kept thinking about how the main character reminded me of my friend and as Lance's character developed I really liked how he diverged from his original self. I was curious to see how things would play out, especially with his mom. (My mom would have driven herself that night to pick me up so there would be no story there!) The ending surprised me! I wasn't sure exactly where it was heading and I'm pleased with it 🙂
I liked a lot of this book and could relate to a lot of the feelings that Lance was having about college and graduation. I would recommend it to anyone who is experiencing this or is about to, because a lot of the anxieties are true and reflect the feelings I had at least.
My one qualm about the book was its believability. I can't say that I relate to the entire situation. Knowing my own parents, they would have driven to come get me right away if my car had broken down. I would not be able to stay away for so long without much contact to either of them in a random town, especially since I am young and a female.
Other than that little piece, I enjoyed reading this! It was a great feel good novel, and I loved the small little twists it had in it.
Happy reading,
Sophie 🙂