How much do you love a good contemporary novel? I know I do, especially when I'm feeling down! I do sometimes feel like the characters have a tendency to become trite if not written well, but I assure you this one is pretty awesome. I even got to read this before I met her last May for an article with Justine. You can read that here.
Title: The Statistical Probability of Love at First Sight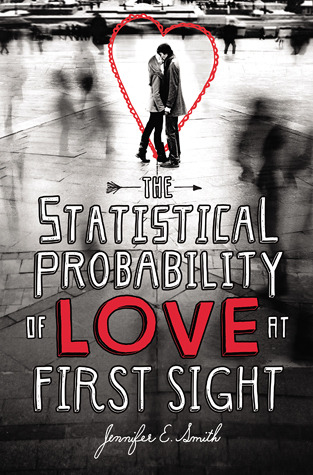 Author: Jennifer E. Smith
Publisher: Poppy/Little, Brown
Release Date: January 2, 2012
Source: Hardcover, US
Who would have guessed that four minutes could change everything?
Today should be one of the worst days of seventeen-year-old Hadley Sullivan's life. Having missed her flight, she's stuck at JFK airport and late to her father's second wedding, which is taking place in London and involves a soon-to-be stepmother Hadley's never even met. Then she meets the perfect boy in the airport's cramped waiting area. His name is Oliver, he's British, and he's sitting in her row.
A long night on the plane passes in the blink of an eye, and Hadley and Oliver lose track of each other in the airport chaos upon arrival. Can fate intervene to bring them together once more?
Quirks of timing play out in this romantic and cinematic novel about family connections, second chances, and first loves. Set over a twenty-four-hour-period, Hadley and Oliver's story will make you believe that true love finds you when you're least expecting it.
******************************************
My best friends can attest to the fact that I'm a romantic. I love love, but so far it's been a rough go for me. That is why I have my contemporaries to keep me company! It's so great to have a good, heartfelt book once in a while, and this is one of them.
I'm going to back track a little here. I remember when this book came out. I remember going to my local Barnes and Noble with my dad, finding this book, and wanting to read it. However I was persuaded to buy something else and it's taken me this long to return to the lovely writing of Jennifer E. Smith. I don't know about you, but I remember the early stages of Young Adult literature. I remember it getting big, and I have been there with it every step of the way. Mostly because I grew up with it.
Anyway, enough of the reminiscing! This book starts right off with Hadley boarding the plane to London, and most of it takes place on the plane itself. I have to say that it was well-written with such little things to do with a setting. I love how the story comes together on this little plane and sets you up for the rest of the novel.
The characters are enjoyable. Oliver reminded me a bit of Etienne St. Clair (Anna and the French Kiss), and I don't know about you, but St. Clair is by far one of the swooniest characters to every come across the YA page. (Cricket Ball is still my fave of the Perkins' boys.) Hadley was a great woman too. I love her vitality and strength throughout the book. Though her stubbornness got in the way at times, she was someone I could root for till the very end.
If you're looking for a good pick-me-up, or something that will just make you warm and fuzzy, definitely get yourself a copy!
Happy reading,
Sophie 🙂