Hi there! I hope you're doing well! I'm aiming to get a good amount of reviews done before the year is up, but it doesn't help how fast I'm getting through books at the same time. I'm not reviewing all of the books I've read this year, but I'm doing a fair amount, so hopefully this will be all caught up!
Title: The Secret of a Heart Note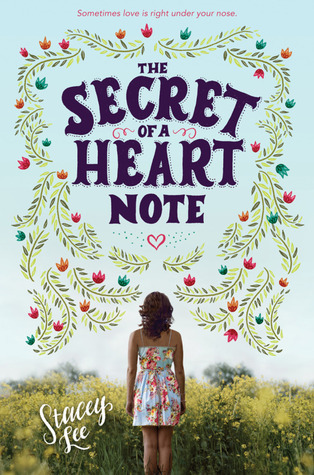 Author: Stacy Lee
Publisher: Katherine Tegen Books
Release Date: December 27, 2016
Source: Hardcover, US
Love chose me, and I tried, but I couldn't stop the arrow in its flight.
As one of only two aromateurs left on the planet, fifteen-year-old Mimosa knows what her future holds: a lifetime of using her extraordinary sense of smell to mix base notes, top notes, and heart notes into elixirs that help others fall in love.
All while remaining incurably alone.
For Mim, the rules are clear—falling in love would render her nose useless, taking away her one great talent. Still, Mimosa doesn't want to spend her life elbow-deep in soil and begonias. She dreams of a normal high school existence—taking up a sport and limping away flush from victory, joining the debate club and saying things like "That's a logical fallacy!" Having a boyfriend.
When she accidentally gives an elixir to the wrong woman and has to rely on the school soccer star to help fix the situation, Mim quickly begins to realize that when it comes to falling in love, the choice isn't always hers to make.
*********************************
I remember I bought this one mainly on impulse and the fact that it was super cheap on Amazon. And I'm so glad I did!