I loved this book so much. It was one that I bought years ago when I got my job as a bookseller to celebrate it. I finally read it at the urging of my best friend, and I can't believe I waited so long to read it.
Title: Aristotle and Dante Discover the Secrets of the Universe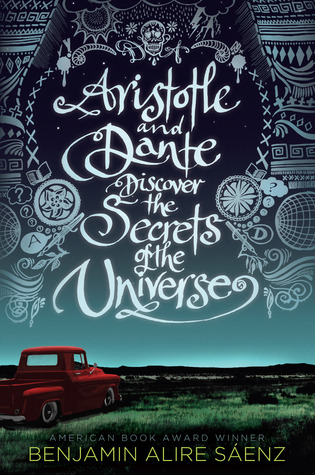 Author: Benjamin Alire Saenz
Publisher: Simon & Schuster Books for Young Readers
Release date: February 21, 2012
Source: Paperback, US
Aristotle is an angry teen with a brother in prison. Dante is a know-it-all who has an unusual way of looking at the world. When the two meet at the swimming pool, they seem to have nothing in common. But as the loners start spending time together, they discover that they share a special friendship—the kind that changes lives and lasts a lifetime. And it is through this friendship that Ari and Dante will learn the most important truths about themselves and the kind of people they want to be.
*****************************************
Let's take a minute to savor this book. And a moment of silence for the chance I had to read it for the first time ever.
Okay, now let's talk about how amazing this book is.
First, the characters. I loveeeeeeeeeeeeee Dante and Ari. They are dynamic and deep and so beautiful. Ari is the narrator of the story and his thoughts and voice are strong and lyrical. I think the best part of his voice is how genuine it is. Sometimes it takes a while for authors to really get to a character on this level, but right from the start you can hear it and feel it in Ari. Dante is someone who brings light and perspective into Ari's life, and that's what makes this book so beautiful. Their dynamic is something I could read about for a long time. They are gentle and headstrong and they work together so well.
The setting of the book works well with the rest of the novel. It's set in Texas during the 80s. I love how this influences the kind of life the boys live, and how their love develops around it.
Saenz's writing in general is lush and gorgeous. It's full of beautiful quotes that I need to have framed right now. I even Tweeted one. Ugh. So full of such amazing language that I can't wait to read The Inexplicable Logic of My Life.
Happy reading,
Sophie 🙂