Here I am with another installment of Sneak Peak Sundays with Forest of a Thousand Lanterns by Julie C. Dao. It was a phenomenal read that I thoroughly enjoyed, and one that you won't want to miss out on this fall!
Title: Forest of a Thousand Lanterns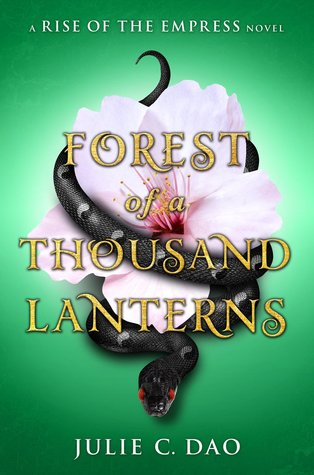 Author: Julie C. Dao
Publisher: Philomel Books
Expected Release: October 10, 2017
Source: ARC
An East Asian fantasy reimagining of The Evil Queen legend about one peasant girl's quest to become Empress–and the darkness she must unleash to achieve her destiny.
Eighteen-year-old Xifeng is beautiful. The stars say she is destined for greatness, that she is meant to be Empress of Feng Lu. But only if she embraces the darkness within her. Growing up as a peasant in a forgotten village on the edge of the map, Xifeng longs to fulfill the destiny promised to her by her cruel aunt, the witch Guma, who has read the cards and seen glimmers of Xifeng's majestic future. But is the price of the throne too high?
Because in order to achieve greatness, she must spurn the young man who loves her and exploit the callous magic that runs through her veins–sorcery fueled by eating the hearts of the recently killed. For the god who has sent her on this journey will not be satisfied until his power is absolute.
******************************************
AHHHHHHHHHHHHHHHHHHHHHHHHHHHHH THIS WAS SO AMAZING! I loved every minute of reading this book. It was fantastic writing and world building. I can't believe how much I needed this book that I didn't even know it. I think this review of it on my Goodreads account encapsulates a lot of my thoughts:
What a lovely, lovely book. I couldn't get enough of the characters and the setting and everything was SO GORGEOUS. You must read this when it comes out!! Xifeng takes you on a dark journey on her way to the throne, and I seriously need to know what happens in book two RIGHT. NOW. HEY JULIE THROW A GIRL A BONE PLEASE!!
This was an intoxicating read. It was full of so much imagery and Chinese elements. It was something that I couldn't get enough of. I know this is the first in a series, but I think they're companion novels (?). I can't wait to see what else is coming from Dao.
I think the best part of the book was the character development. You get to see Xifeng become an Empress and who she becomes to be one. It's an interesting reconciliation between who she was and who she will be. I think that the differences in character are an interesting study of good and evil. Does one choose to be evil or are you inherently bad? SUCH GREAT PHILOSOPHY!!!
You don't want to miss out on this one! Be sure to pick up a copy on October 10 or pre-order one!
Happy reading,
Sophie 🙂