Hello lovely people! John Green's long awaited return to the book world is finally here, and I'm here with my 2 cents to throw in, especially since I will be interviewing this AWESOME man very soon for Justine Magazine!!!!!!!!!!!!!!!!!!!!!!!!!!!!!!!!! YES, YOU READ THAT CORRECTLY, IN A FEW DAYS I WILL BE INTERVIEWING JOHN GREEN!
Title: Turtles All the Way Down
Author: John Green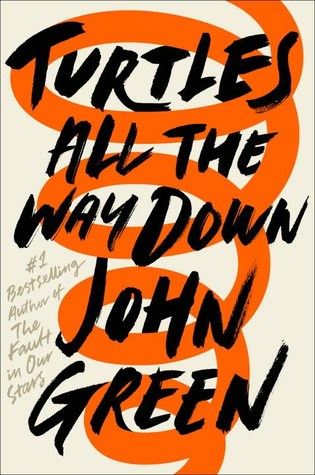 Publisher: Dutton Books for Young Readers
Release date: October 10, 2017
Edition: Hardcover, US, Signed
My rating: 5/5 stars
Sixteen-year-old Aza never intended to pursue the mystery of fugitive billionaire Russell Pickett, but there's a hundred-thousand-dollar reward at stake and her Best and Most Fearless Friend, Daisy, is eager to investigate. So together, they navigate the short distance and broad divides that separate them from Russell Pickett's son, Davis.
Aza is trying. She is trying to be a good daughter, a good friend, a good student, and maybe even a good detective, while also living within the ever-tightening spiral of her own thoughts.
In his long-awaited return, John Green, the acclaimed, award-winning author of Looking for Alaska and The Fault in Our Stars, shares Aza's story with shattering, unflinching clarity in this brilliant novel of love, resilience, and the power of lifelong friendship.
***************************
I wrote this in a bit of a craze after finishing the book:
My feelings hurt and I'm not okay but also I'm okay because I LOVE this book so much. I feel so much right now and it's a lot to unpack that I simply don't have time for right now. So many things to feel, and it's only Tuesday.

Say what you will about JG, but 5 years does a lot for a writer and this book is proof. Give Aza a chance. Give him a chance.
Even a day after reading this book, I cannot fully create coherent sentences around this, however I will do my best to try.
Aza is a deep, well developed character. She breaks the third wall and speaks to the reader, however it seems that while she may be addressing the reader she may just be addressing her self. It may seem a bit confusing from my previous statement, but I promise once you read it you'll understand what I'm saying.
This story isn't about Aza championing her mental health issues. It's about how she struggles to live with it and still have a successful life and healthy relationships with other people. While there are few people that she feels that she can trust about these, Daisy is her best, and most loyal friend. It captures how Aza's spirals affect the way she relates to people around her, and the difficulties that arise because she can become so trapped inside her mind. While I cannot speak to the truth of this experience, I know that due to the personal nature of the book to John Green, it is.
It's full of existential crises, and I like that aspect. I feel as though JG and Aza took a peek into my brain to extract some thoughts, and that made it all the more personal. Despite my age, I have had several instances where I wonder who is truly in control, and debate free will vs. destiny. I follow some of Aza's thought spirals, and seeing that I'm not alone in it gives me a sort of comfort.
Going into my first reading of this book I didn't even know much of a description. It wasn't until I got into the first three chapters that it was about a mystery. I liked that element. In an interview with Time, I read that it was important to JG that he show that not all obsessive compulsions result in someone who can intensely focus their energies to detective work. I thought it fascinating that he chose to tell this story in that way, and I think it does nothing but enhance the quality of it.
The literary and pop culture references throughout the book are phenomenal and well placed. They bring in clarity to characters like Davis and Aza that would not have been there otherwise. They speak a lot on the way that the two of them think — the similarities and differences. One of the ways that Davis and Aza relate to each other is through their existential and random but deep discussions on life. It reminded me of some of the friendships in my life where we sit and contemplate things in silence sometimes, and often share our thoughts with each other.
I cannot stress the importance of reading this book and books like it. I recommend it to everyone who loves to get their nose stuck between the pages (or want to get back into reading!).
Happy reading,
Sophie 🙂