Hi guys! I'm here to wrap up the year with one last review. Be sure to check this one out right as the new year begins 🙂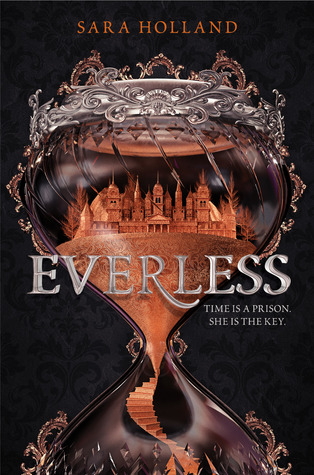 Title: Everless
Author: Sara Holland
Publisher: HarperTeen
Expected Release: January 2nd, 2018
My rating: 5/5 Goodreads stars
In the kingdom of Sempera, time is currency—extracted from blood, bound to iron, and consumed to add time to one's own lifespan. The rich aristocracy, like the Gerlings, tax the poor to the hilt, extending their own lives by centuries.
No one resents the Gerlings more than Jules Ember. A decade ago, she and her father were servants at Everless, the Gerlings' palatial estate, until a fateful accident forced them to flee in the dead of night. When Jules discovers that her father is dying, she knows that she must return to Everless to earn more time for him before she loses him forever.
But going back to Everless brings more danger—and temptation—than Jules could have ever imagined. Soon she's caught in a tangle of violent secrets and finds her heart torn between two people she thought she'd never see again. Her decisions have the power to change her fate—and the fate of time itself.
*******************
I finished this book last Wednesday, and OMG!!! I can't get this story out of my head. I love it so much. I CAN'T WAIT UNTIL THE SECOND BOOK OMG SOMEONE PLEASE GIVE ME DETAILS ABOUT IT I'M DYING OVER HERE!!!!!!!!!!!
Here are a few things I had to say on Goodreads in my initial review:
BUCKLE UP KIDS BECAUSE THIS IS GOING TO BE ONE HECK OF A YEAR! I absolutely loved this book; it was unputdownable. I can't get over the lush world that Holland creates between these covers, and I am DYING to know what happens in book two already!! (Seriously, if you know anything pls send them to me!!!)
There are a lot of characters, but that doesn't make it confusing. Jules was an awesome character. She was strong, confident, and strong willed sometimes to her disadvantage. However I don't think this takes away from her, it just adds to it.
I can't wait to see what becomes of Ina in the second book! We don't see much development of her character, but toward the end of the book we get to understand more of who she is. I want to know more. I also want to know how Caro develops too. I like the way Holland left them at the end of the book, but I'm excited for the direction she may take them in.
Something that confused me a little bit was the whole concept of blood = time and how it worked within the world. I wasn't sure how the whole system worked, but I feel that it worked itself out as the book went on. I wish there was a more articulate way to express my exact confusion, but this will have to do.
The fairy tale elements within the book worked well. I like the different fragments that were included and how Holland created it. This isn't a huge part of the story, but it gives a lot of back story and is one of the key details.
Overall I highly recommend this one. This gave me a lot of Red Queen and Strange the Dreamer vibes so if any of those are what you're into, you may like this one!
Happy reading and Happy New Year!
Sophie 🙂