Let's talk about the last book by one of my all-time favorite authors. Jenny Han is a freaking goddess, and I had the pleasure of meeting her this past May when her book released. It was a phenomenal experience that I will never forget.
Title: Always and Forever, Lara Jean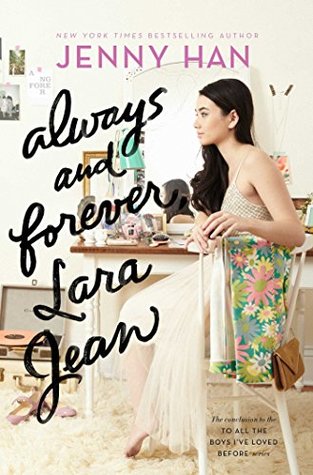 Author: Jenny Han
Publisher: Simon Schuster Books for Young Readers
Release Date: May 2nd, 2017
Edition: Hardcover, US
My Rating: 5/5 stars
Lara Jean is having the best senior year. And there's still so much to look forward to: a class trip to New York City, prom with her boyfriend Peter, Beach Week after graduation, and her dad's wedding to Ms. Rothschild. Then she'll be off to college with Peter, at a school close enough for her to come home and bake chocolate chip cookies on the weekends.
Life couldn't be more perfect!
At least, that's what Lara Jean thinks…until she gets some unexpected news.
Now the girl who dreads change must rethink all her plans—but when your heart and your head are saying two different things, which one should you listen to?
*********************************
Oh Lara Jean, I have missed you dearly. I am Team #JohnAmbroseMcClaren, but I understand why people are Team #Kavinsky. I just feel that John Ambrose was so much kinder to Lara Jean, but that's not really the point of this review right now, right? 😉
If you haven't read the first two books in this series, I'm going to redirect you to my review of those right here. This will be spoiler free of the third book, but I can't review this without making references to the previous two in the series.
I read this right at the tail end of my own senior year of high school, and all of the stress that Lara Jean goes through I had just been through. It was like reading about my own college application process from afar, which was a bit weird and meta. One thing that irks me with books is that they still include paper applications in their application process. This isn't very realistic because most, if not all, applications are done online now. There are no longer paper applications that you have to reach out to certain schools to request that I'm aware of.
That small complaint aside, the emotions are all the same. The stress, the worry, the panic — it's all the same whether you're applying on paper or digitally. Han captures the thoughts and feelings of the application process well, and I'm sad to have a conclusion for Lara Jean and the gang.
Happy reading,
Sophie 🙂