Hi there! Merry Christmas Eve to those who celebrate it. I'll be hanging out with my family all day, and this is one of my favorite days of the year. I hope you're all having a lovely holiday season so far! I'm here to talk about this awesome book which I finished earlier this week. I can't wait for everyone to be able to read it!
Title: Love, Hate & Other Filters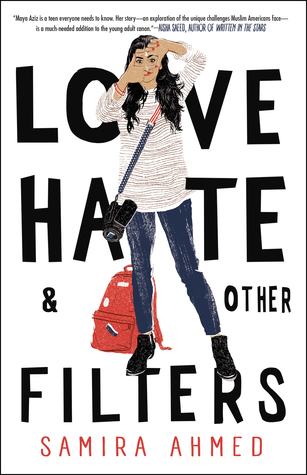 Author: Samira Ahmed
Publisher: Soho Teen
Expected Publication: January 16, 2018
My rating: 5/5 Goodreads stars
A searing #OwnVoices coming-of-age debut in which an Indian-American Muslim teen confronts Islamophobia and a reality she can neither explain nor escape–perfect for fans of Angie Thomas, Jacqueline Woodson, and Adam Silvera.
American-born seventeen-year-old Maya Aziz is torn between worlds. There's the proper one her parents expect for their good Indian daughter: attending a college close to their suburban Chicago home, and being paired off with an older Muslim boy her mom deems "suitable." And then there is the world of her dreams: going to film school and living in New York City—and maybe (just maybe) pursuing a boy she's known from afar since grade school, a boy who's finally falling into her orbit at school.
There's also the real world, beyond Maya's control. In the aftermath of a horrific crime perpetrated hundreds of miles away, her life is turned upside down. The community she's known since birth becomes unrecognizable; neighbors and classmates alike are consumed with fear, bigotry, and hatred. Ultimately, Maya must find the strength within to determine where she truly belongs.
**********************************
Here's what I first said on Goodreads:
A truly amazing story. I stayed up until 1 a.m. to finish it, and it's one that is unique and necessary to read, especially in today's climate. I really loved the small inserts of extra story outside of Maya's regarding the terrorist and everything surrounding him. I liked the (subtle?) commentary Ahmed makes on the kind of news reported on terrorism depending on the skin color of the person committing the crime in America. Keep an eye out for this one in January!
Maya's story is so important to readers today. I love the statement that her story makes, and it's great to see all of the events from her perspective.
Maya is trying to be a normal American teenager, but she feels that she never can because she's Indian and she's Muslim. Those demographics make her labeled as "other" without her even opening her mouth, and I liked seeing her struggle with her identity. She was well written and one of the best characters I've come across in a long time.
One thing that I loved about this story were the small pieces of story between chapters. (I don't know what else to call it!) Between each chapter there is a small piece about the events surrounding the terrorist attack and the different reactions to it outside of Maya. It shows a lot of how different people who commit the same crime are treated differently by the media.
Overall this was an amazing book. It was a quick and intriguing read. I encourage you to make room for it on your TBR list and read it as soon as you can!
Happy reading,
Sophie 🙂