Hey guys! Happy happy release day to this lovely book! I wanted to finish it by the release date so I could have a review up, and I made it by the skin of my teeth. Thank you to Simon Teen for providing me with a review copy.
Title: Emergency Contact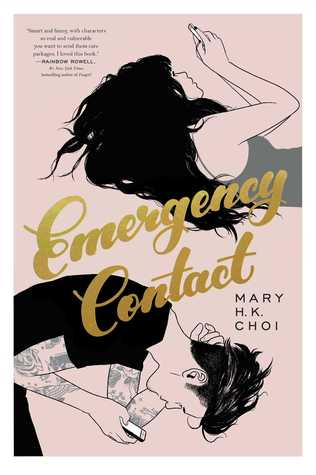 Author: Mary H. K. Choi
Publisher: Simon Schuster Books for Young Readers
Release date: March 27, 2018
My rating: 5/5 Goodreads stars
For Penny Lee high school was a total nonevent. Her friends were okay, her grades were fine, and while she somehow managed to land a boyfriend, he doesn't actually know anything about her. When Penny heads to college in Austin, Texas, to learn how to become a writer, it's seventy-nine miles and a zillion light years away from everything she can't wait to leave behind.
Sam's stuck. Literally, figuratively, emotionally, financially. He works at a café and sleeps there too, on a mattress on the floor of an empty storage room upstairs. He knows that this is the god-awful chapter of his life that will serve as inspiration for when he's a famous movie director but right this second the seventeen bucks in his checking account and his dying laptop are really testing him.
When Sam and Penny cross paths it's less meet-cute and more a collision of unbearable awkwardness. Still, they swap numbers and stay in touch—via text—and soon become digitally inseparable, sharing their deepest anxieties and secret dreams without the humiliating weirdness of having to see each other.
********************
This book was so sweet. It was nicely paced, and I wanted to know what was going to happen till the very end. Honestly, there are still some questions I have even after finishing it! That's not a big deal, I think Choi had to leave some details a little ambiguous.
Here are a few things I said on Goodreads:
I don't know why, but it's taken me a while to finish a book. That's not to say that this book wasn't amazing because it was, I just had a lot more going on than I usually do. Anyway, this book was fantastic, and I loved it so much! Full RTC
It took me a while to finish this book. It's been a while since I finished any book. It's a combination of school and BTS videos taking over my life. Also, my roommate goes to bed when I want to stay up and read, so I have to go to bed sooner than I'd like sometimes.
Anywho, once I really sat down to read this book it went by too fast. The characters were lovely and the plot was very engaging. I was curious to see how Sam and Penny would become each others' emergency contacts. Is it cheesy to say it was perfect? Don't get me wrong, it was super awkward, but I can't imagine a more perfect way for it to happen in the story.
Penny is such a well-developed character. I love the inner workings of her mind, and I like how weird she is. She reminded me a little of myself, in that she's fiercely introverted, but fiercely loyal to her friends. It's interesting to see how things play out between her and Jude, her roommate. I wasn't sure what to think of Jude at first, but as the book continued she grew on me. I like how open she is with everything and how she would do anything for her people.
Sam is also a flawed but awesome character. I like his flaws, and I like how plainly he can wear them around Penny. They are on the same wavelength the whole time and seem to truly understand each other in ways that the other characters can't.
Something that is touched on here and there throughout the book is Penny's experience as a Korean-American. I can't speak on that directly, but I really could relate to her struggles as an Asian-American. Her rep was well done, and it didn't feel like something forced. It was a thing, but not the thing.
The book is also set in college! This was awesome. There aren't many novels set in the early years of college, and while high schoolers are awesome, it's cool to see more of this narrative especially since I'm going through my first year as well.
Overall, this was a beautiful novel. I hope you read it! I recommend it to anyone looking for something different. Be sure to check this one out!!
Happy reading,
Sophie 🙂