I love love debut novels, and you don't want to miss this one. I had the amazing chance to go meet Gloria in Chicago. I had such a good time, and we had a bit of an adventure trying to get back to Michigan. More on that later, let's jump right in!
Title: American Panda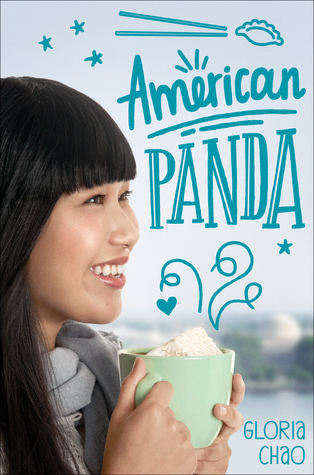 Author: Gloria Chao
Publisher: Simon Pulse
Source: Hardcover, US
My rating: 5/5 Goodreads stars
At seventeen, Mei should be in high school, but skipping fourth grade was part of her parents' master plan. Now a freshman at MIT, she is on track to fulfill the rest of this predetermined future: become a doctor, marry a preapproved Taiwanese Ivy Leaguer, produce a litter of babies.
With everything her parents have sacrificed to make her cushy life a reality, Mei can't bring herself to tell them the truth–that she (1) hates germs, (2) falls asleep in biology lectures, and (3) has a crush on her classmate Darren Takahashi, who is decidedly not Taiwanese.
But when Mei reconnects with her brother, Xing, who is estranged from the family for dating the wrong woman, Mei starts to wonder if all the secrets are truly worth it. Can she find a way to be herself, whoever that is, before her web of lies unravels?
**********************
Mei was awesome. I loved getting to know her and the story was amazing. I couldn't put it down! There were times that I was laughing out loud walking around campus. It was cute and funny.
Here are a few comments I made right afterward:
This book FLEW BY for me! I couldn't put this one down. I loved Mei and I loved her personal journey throughout the whole story. It was exhilarating, and I loved every moment of it. 
I wanted to finish this in time for the event that coming Saturday and I finished in time for my friends to even finish the book, too. This was a quick, sweet read.
Mei's parents are big characters in this book, and their presence is felt throughout the story. Mei's mom was well-meaning and loving. She tries to do a lot for Mei so Mei can focus on studying. I understand where they're coming from, and from what I can tell this is a very accurate snapshot of what it's like to grow up with Taiwanese parents. (I cannot speak from personal experience because my parents are Caucasian and American, though I am Chinese.) Chao pulled a lot of personal feelings and emotions into this story, and I appreciate the accuracy of her representation.
Another aspect I really liked about the book was her representation, even with the cover art. You never notice the lack of rep on covers until you see it, and you wonder why you haven't see it before. I don't see a lot of books with Chinese women or other Asian-American/Asian out in the world, but I love the recent efforts made by those women to write their stories. This book does a good job of having diverse characters but not having that as the main focus of it.
The story centers on Mei coming into her own in her freshman year of college. This setting is also something that isn't often written in. I found that a lot of stories are about adults or high schoolers, especially seniors. This is another thing done well by Chao. She captures the freshman experience within her novel. Freshman year of college is a huge transition, and I think that Mei went through a lot of the things I've felt this year so far. She is trying hard to set herself apart from her parents while still needing their help. She wants to do things her way and must balance the wishes of her parents.
One thing I do wish it had done better was talk about Mei's mental health. There are small conversations about it here and there, but it's never addressed head on. However, I can see that it wasn't the full part of the story so I can see why it wasn't completely talked about.
I feel like I could talk about this book for days, but I'll wrap it up here. I had an amazing time at the event at 57th Street Books. This is one of my favorite bookstores to visit, and I make sure to go when I'm in the area. Here's a photo!
Happy reading,
Sophie 🙂